As Seen On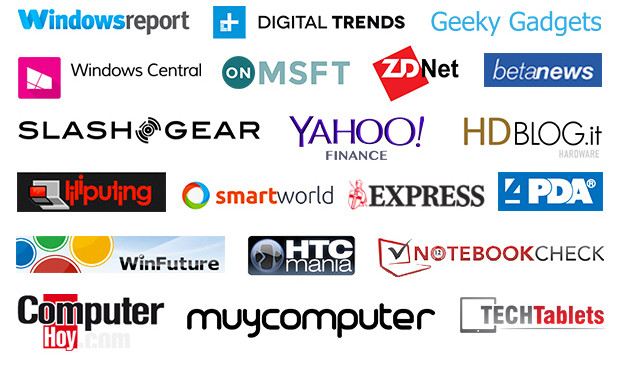 Our Strategic Partners



Fed up of carrying around a heavy laptop? Trouble when you want to work on your tablet? Chuwi SurBook is a lightweight solution that combines productivity and mobility – its the perfect choice for you. Incredibly portable yet boasting high performance, the Chuwi SurBook can easily replace your personal laptop, while for work, productivity is significantly better than a traditional tablet, thanks to the quad-core Intel processor.
SurBook has the exquisite all-metal design appearance that you love about the Apple iPad Pro, and the multi-position kickstand echoes the smart design of the Microsoft Surface series. With the configuration of 6GB memory/128GB (or 64GB) storage, you can easily multitask, switching between the worlds'most popular productivity packages including Adobe Photoshop and Microsoft Office. As if that wasn't enough, Chuwi SurBook's massive storage is enough to store all of your files, travel photos, favorite movies or TV series.
And if you do run out of space, we've got you covered, with a microSDXC (TF) card slot that can be used to double the storage space. (card not provided).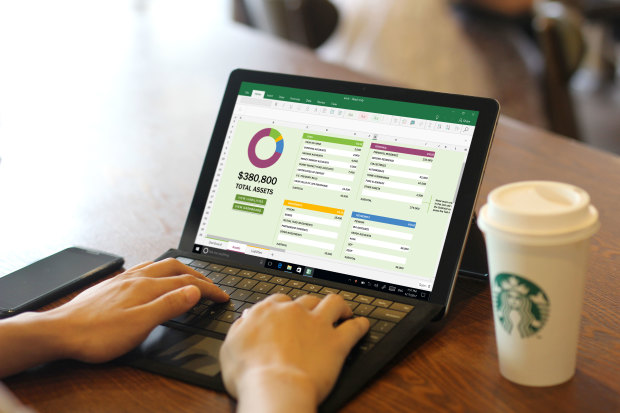 When you want to access the internet, the 2.4/5GHz dual-band 802.11ac Wi-Fi will offer more stability and a quicker internet surfing experience, whether at home or out and about. The power-saving design and 10,000mAh high-capacity battery, almost double the size of the Surface Pro 4, means Chuwi SurBook can easily achieve around 8 hours of average use from a single charge, with the 24W charger offering speedy recharging to keep you on the go even longer.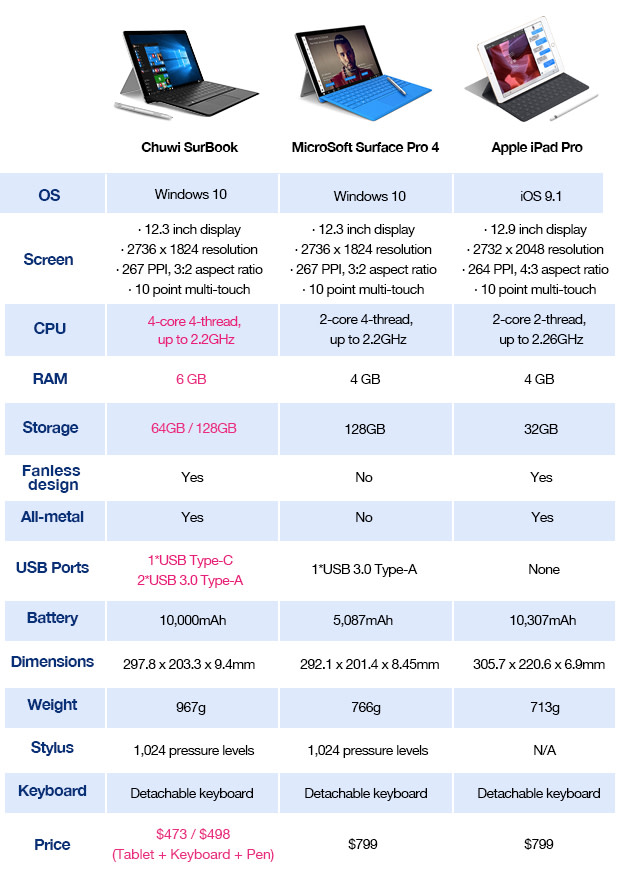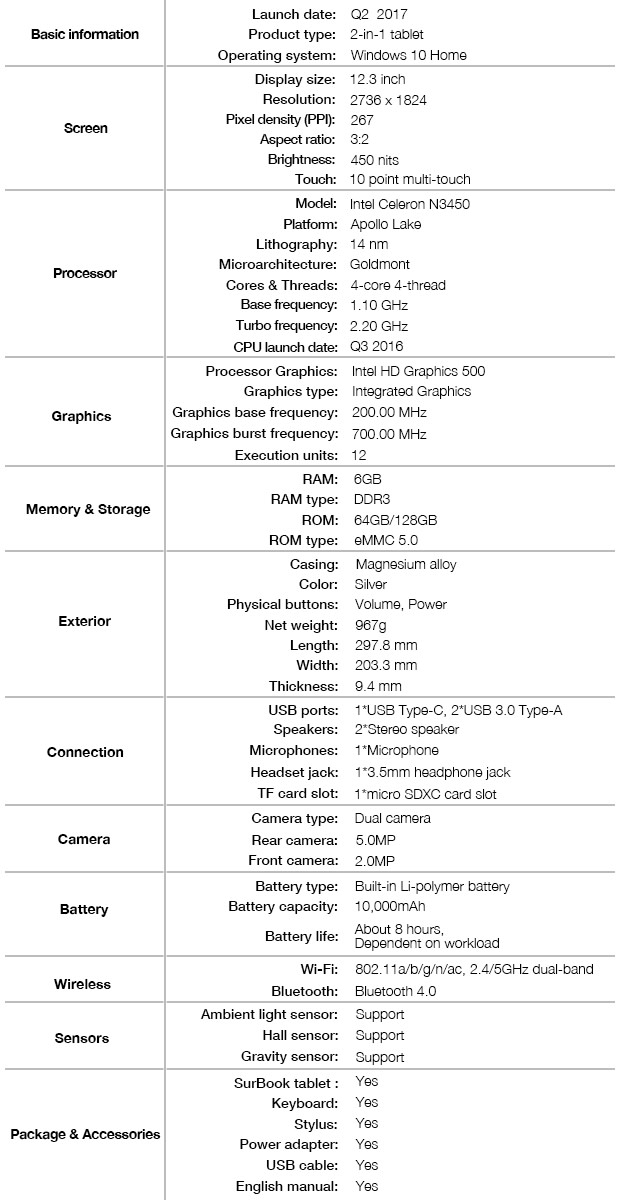 Note: The above specifications may change.


Stunning 2K high-resolution screen​
The SurBook boasts an amazing 2736 x 1824 resolution 2K screen – one of the world's highest resolution displays for tablets. It is perfect for everyday use, but also suitable for specialist workloads. For example, a photographer, can use it to browse your photos. The sharper contrast and delicate colors can make your works even more outstanding. As a movie lover, it can be used to watch your favorite HD movies or TV series. If you are an engineer or designer, the stunning screen is also a perfect platform to present your project mockups.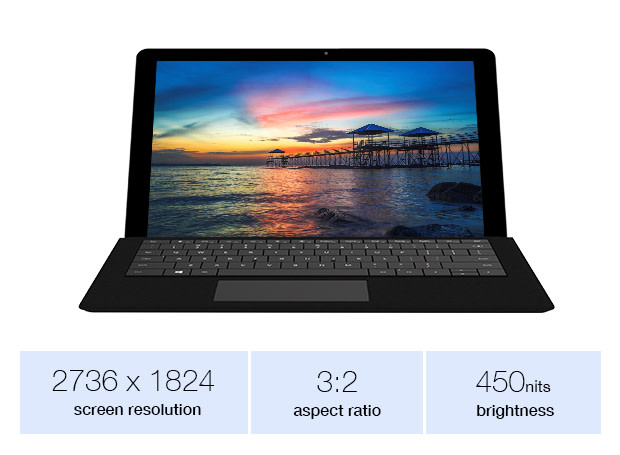 High performance Intel Apollo Lake CPU
We chose the Intel's newest generation quad-core 4-thread Apollo Lake N3450 processor launched at the end of 2016. We believe it's the perfect choice for 2-in-1 tablets and lightweight laptops, balancing best value with fantastic performance. Compared to the previous 'Cherry Trail' generation, it offers 30% performance improvement and fine tuned power management gives a more durable battery life. SurBook can confidently handle all kinds of every day scenarios such as working, shopping or gaming, backed up by  Intel Generation 9 HD graphics, meaning it also can smoothly play HD videos and run 3D games.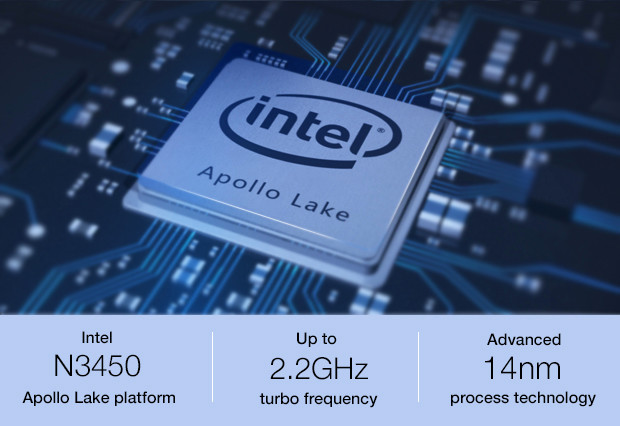 Detachable backlit keyboard & adjustable kickstand
The detachable keyboard and adjustable kickstand makes SurBook ideal for business travelers. With an ultra-slim keyboard, it can be easily put into your bag or brought with you, anywhere you want. The keyboard is backlit, so you can type with ease in even the dimmest light. Its 125-degree-angle kickstand frees your hands and makes it easy to present the screen to your colleagues or friends.
Picture the scene – it's a beautiful, sunny morning, you walk into a coffee shop with the SurBook under your arm. Sit down, take a sip of coffee and then open your slim keyboard, flip out the elegant kickstand and start a full day of work, all off a single charge. That sounds like our kind of day!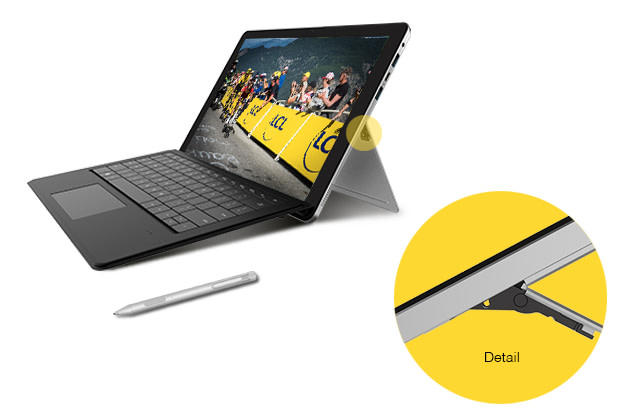 SurBook has two innovative rotating hinges, assembled with precision. We've already quality controlled it through 20,000+ flippings, so it will definitely stand up to the rough stuff.
The adjustable kickstand can be flipped freely between 0 to 125 degrees for maximum visibility.
The Backlit keyboard will make typing easy – even in the dark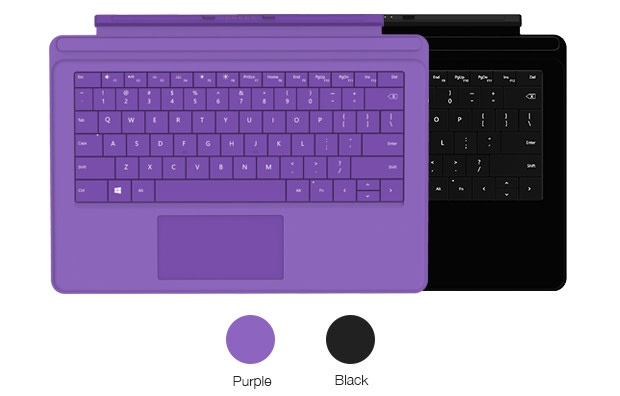 Comes in two color options: Black and Purple
Connectivity? No problem! The Chuwi SurBook comes with a fully functioning Type-C interface which not only can offer quick battery charging (12V/2A), but also support audio and video transmission. Plus as you would expect it also comes equipped with two USB 3.0 Type-A interfaces that can connect to any USB-based peripherals such as game controller, USB flash disk, USB hub, scanner, printer and wireless keyboard.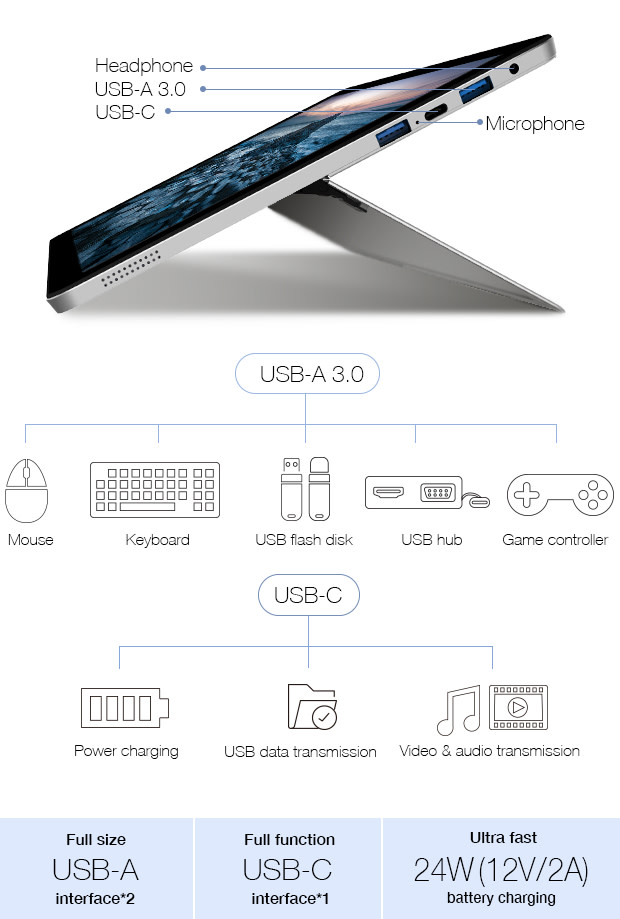 1,024 pressure levels stylus
Chuwi SurBook will also support an active stylus that has up to 1,024 levels of pressure sensitivity. With palm blocking technology and less than 30 degrees writing angle, it has been carefully designed to bring you a fantastic pen experience.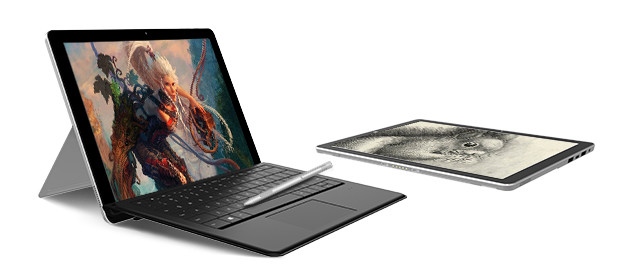 As a recognized partner of Microsoft, the Chuwi SurBook will run on Windows 10 . The choice of PC or tablet mode makes it not only an efficient productivity tool, but also suitable for light entertainment. It can be used for a variety of office scenarios, such as securities trading, table editing, text composition, PPT design and presentation as well as sending e-mails. Chuwi is committed to using a full, licensed version of Windows 10, not the cut down Window 10 S that some rivals use.


By now, you'll know Chuwi SurBook is a very powerful tablet product. It has a high resolution screen, new Intel Apollo Lake processor and a host of powerful features.
Chuwi has a proven track record of great tablets, convertibles and laptops, but we believe that this is our best so far and we're ready to compete shoulder to shoulder with the market leaders.
In order to offer you such an excellent product, our fantastic team of engineers needed to constantly test and troubleshoot, to overcome technical obstacles from the earliest design to final mass production. In addition to the huge research and development costs, we also need to pay more upfront for the premium component procurement. In order to offer our best product yet at such a stunning price, we decided to raise funds here on Indiegogo.
We promise that all the funds we raise will be directly used for this product's mass production. With your support and our efforts, we believe that we will be able to deliver the Chuwi SurBook, on time and exceeding all your expectations.
Share SurBook with Friends
If you like the SurBook, please hit one of the following buttons to share it with your friends.


Established in 2004 and located in Shenzhen of China, Chuwi has built a reputation for creating great tablet devices in our home country over the past thirteen years. We are always committed to designing and producing our own brand tablets, personal laptops, fast charging accessories and other digital products.
Our products are sold around the world through self-operated Amazon stores, AliExpress stores and many other distributors or retailers. With high-quality products, competitive prices and excellent service, our products always sell well, with loyal customers coming back as new models are released. We are proud to be an Intel and Microsoft global tablet strategic partner.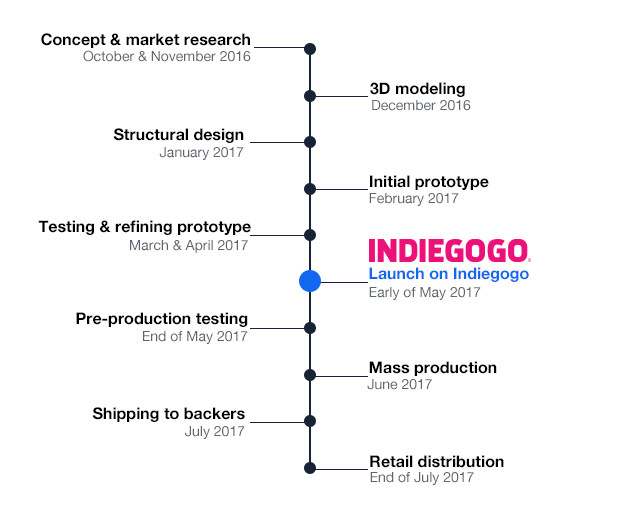 1.  Who is responsible for the additional taxes, duties or VAT?
SurBook funding will be used for the product itself and will be distributed from our warehouse in China. Shipping will only include international postage, so you may need to pay additional taxes, duties or VAT if your country requires it. Check your local laws before ordering.
2.  What is your warranty and refund policy for crowdfunding users?
Our crowdfunding users will make the SurBook possible. As such, they will enjoy equal warranty rights when the product appears on the market. During the Indiegogo campaign, you can ask for a refund at any time by contacting us at crowdfunding@chuwi.com. Please note, we will not be able to refund your order once it has shipped, except under warranty.
3.  If I want to be a distributor or retailer, where do I start?
If you want to stock Chuwi SurBook, we are open to distributors and retailers worldwide. If you have a retail store or website where Chuwi would be a good addition to your range, please email us at sales1@chuwi.com.
4.  If I have other questions, how can I contact you?
If you have any question about our project or product, please feel free to send us an email at crowdfunding@chuwi.com. Our team will answer your questions as soon as possible.
max
$4,999.00

paul
$5,000.00