Company Highlights
Incubated at the Cisco Hyper-Innovation Living Labs (CHILL)
Notable partners include Cisco, Community Health Network (CHN), and the Northeast Business Group on Health (NEBGH), a coalition representing over 175 large organizations in New York, New Jersey, Connecticut, and Massachusetts
Utilizes machine learning and artificial intelligence (AI) algorithms to identify relevant content specific to each person's point in their care journey; this ensures the right information is given to the right person at the right time
Company Summary
Opportunity
The CircleOf story began in Fall 2016 when the Cisco Hyper-Innovation Living Lab (CHILL) brought together industry-leading companies to focus on the future of healthcare, particularly on how to improve outcomes for cancer patients. Executives from Cisco, Walgreens, University of California San Francisco, Vocera, and Community Health Network (CHN) – along with physicians, nurses, patients, caregivers, and entrepreneurs – ideated, iterated, and ultimately chose to proceed with one idea, which turned into CircleOf.
Incorporated in May 2017 as MyWays Inc., CircleOf has been fully supported by Cisco through CHILL from ideation to incorporation. The innovation lab has helped the company through a rigorous vetting process that included market research, building a minimum viable product (MVP), and working with dozens of patients and caregivers to improve the platform's capabilities.
Cisco, along with CHN ─ an integrated healthcare system with more than 200 sites of care and affiliates located in Central Indianai ─ have become strategic partners in CircleOf and continue to assist with access to potential customers and partners. Cisco is also piloting the product internally to help further develop the CircleOf product experience.
Additionally, the company received a signed memorandum of understanding (MOU) from the Northeast Business Group on Health (NEBGH). Representing over 175 large employers,ii NEBGH helps employers across the Northeastern U.S. make informed healthcare decisions, improve healthcare delivery systems, and control healthcare-related costs. CircleOf will work together with NEBGH and its members to enhance its enterprise offering, which it plans to launch as the company's first product offering in Q2 2018.
Product
CircleOf is a mobile app that provides tools that can connect people in need with those that can help. CircleOf can instantly form teams of family, friends, co-workers, or community groups to privately share information, provide assistance, and volunteer knowledge and/or time. CircleOf is both a resource and social communication tool ─ allowing anyone to create a connected community of care at any time.
The app also helps companies support their employees and foster engagement. It helps employers manage healthcare costs as well as promote awareness and access to employer-provided work-life resources. With CircleOf, employees can become more proactive in balancing their caregiving and work responsibilities, which helps businesses improve productivity and reduce absenteeism.
Care Team Creation in 60 Seconds: Individuals start by quickly creating private care teams that include family, friends, work colleagues, etc. Forming a trusted network of caregivers makes it easy to ask for help without feeling like a burden, ensuring people can always receive the right support at the right time.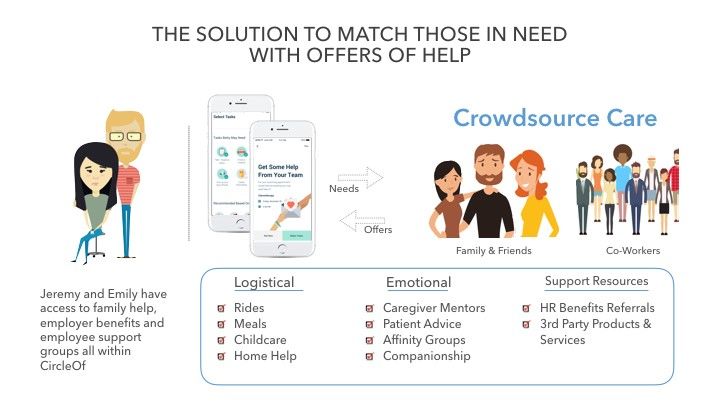 Match Care Needs with Care Offers: CircleOf makes it easier to connect with family, friends, and co-workers to create a supportive, always-ready care team. With the CircleOf Care Marketplace, care team members can provide help to one another directly or delegate to others when they are unable to lend a hand. Logistical care services (e.g. transportation to appointments, picking up prescriptions, or other household errands) can be "gifted" by care team members through third-party providers.
Employer-Sponsored Care Communities: Most large employers already have employee-led caregiving groups for acute and chronic care conditions. CircleOf accelerates the formation of these company care communities by linking them together into a larger web of care for additional advice and support.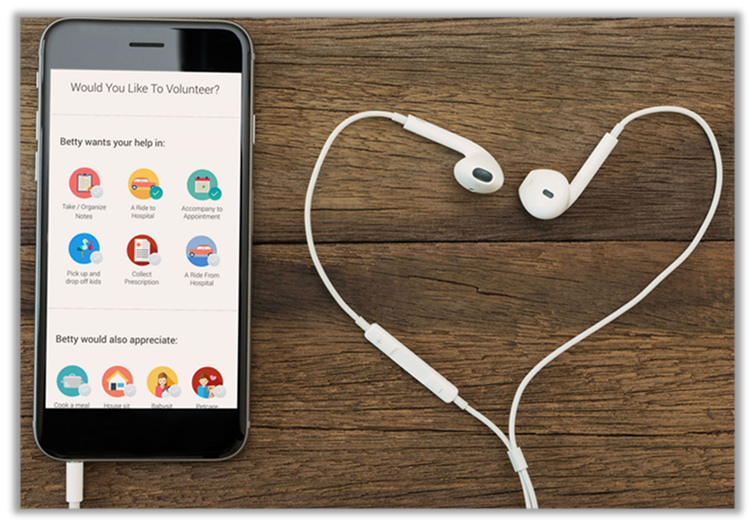 Technology
CircleOf leverages the latest technology from Cisco to create a collaboration platform that simplifies communication while maintaining the highest level of security and privacy. Further, the platform utilizes machine learning and artificial intelligence (AI) algorithms to identify relevant content specific to each patient's unique situation. This ensures the right information is provided when it's needed the most.
CircleOf-as-a-Benefit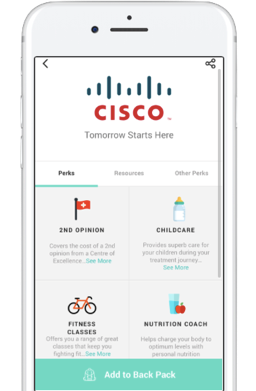 CircleOf will initially launch as a work-life benefit offered by companies through their HR benefits departments. Through its strategic partnerships, CircleOf will target Fortune 1000 companies and large employers. The CircleOf Workplace premium service will connect employee patients and caregivers throughout the enterprise to share advice and resources offered by their employer. CircleOf helps employers create a care-friendly culture while increasing adoption of existing benefits and services. By providing CircleOf as a work-life benefit, companies can:
Reduce absenteeism and productivity loss
Drive awareness of condition-specific employer benefits and wellness resources through an easy-to-use mobile platform
Highlight and target company benefits specific to each employee's private team needs, helping maximize the use of company benefits
Provide employers data on the overall health of their organization

CircleOf is currently working with Community Health Network, which facilitated over two million patient interactions in 2017.iii  Together with CHN, CircleOf aims to scale social caregiving by:
Ensuring greater coordination between patients, caregivers, and nurse navigators (advocates who work with patients and their caregivers throughout their care journey)
Reducing late and/or canceled appointments, helping improve patient outcomes, and potentially reducing operational costs
Creating better, more engaging relationships between patients, caregiver, care team, and their healthcare provider
Enhancing overall patient experience, which can potentially improve a provider's HCAHPS (Hospital Consumer Assessment of Healthcare Providers and Systems) score
Use of Proceeds and Product Roadmap
Proceeds from the seed round will be primarily used to pilot the CircleOf app with strategic partners and early customers (e.g. Cisco, CHN) and further develop platform features before its commercial launch in Q2 2018. Specifically, capital will be used for the following:
Improving the app through continued testing with early customers and strategic partners
Further developing strategic distribution channels with strategic partners, benefits aggregators, and healthcare payer/provider networks
Developing and launching a direct-to-consumer product
Further evolving marketing programs to build and socialize the brand

CircleOf Care Marketplace
In Q4 2018, CircleOf plans to launch a free direct-to-consumer app and care marketplace. The CircleOf Care Marketplace will be composed of recognized brands and will allow care team members to quickly and seamlessly access a myriad of products and services. Some examples of the brands and services CircleOf plans to integrate are listed below:
Amazon: Expendables, durable goods
Walgreens: Prescription pick up, cosmetics
The Bouqs Co.: Flower bouquet delivery
Lyft: Rides to the hospital
Blue Apron: Family meal planning and delivery
Door Dash: Food delivery
Instacart: Grocery delivery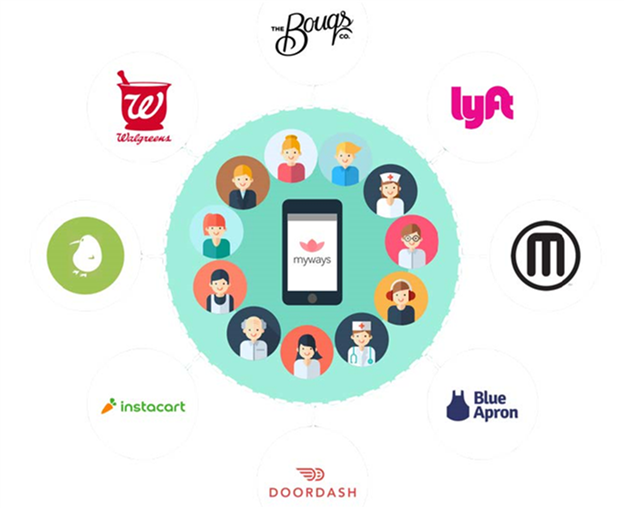 Business Model
CircleOf will be sold as a subscription service targeting HR and business unit heads. The company plans on a three-tiered pricing structure for CircleOf Workplace – a premium enterprise service. A free direct-to-consumer version of CircleOf with fewer features will also be available to the general public. The direct-to-consumer product will generate revenue from referral fees from transactions associated with third-party products and services offered through the CircleOf marketplace.
Historical Financials
CircleOf was founded in May 2017. As of December 31, 2017, the company had deferred revenue totaling $120,000, which is received from Cisco as payment for the pilot program. In 2017, CircleOf's operating expenses totaled $214,466. Third-party contract labor, which included marketing, product development, and engineering, were the primary costs, totaling $192,667. As of December 31, 2017, the company had $186,106 in cash assets.
Industry and Market Analysis
According to a survey published by the NEBGH and the American Association of Retired Persons (AARP), 84% of companies surveyed believe caregiving will become an increasingly important issue in the workplace over the next five years.iv About 44 million Americans provide 37 billion hours of unpaid, informal caregiving services each year for adult family members and friends in need.v The economic value of these services has steadily increased over the past several years, reaching $470 billion in 2013, up from $375 billion in 2007. The $470 billion exceeded what was spent on paid home care and Medicaid in the same year.vi
On average, family caregivers spend 20% of their annual income on caregiving services. In 2016, the average out-of-pocket expense was nearly $7,000. Long-distance family caregivers (those who do not live nearby the care recipient) spent an average of nearly $12,000 in 2016.vii In addition to the significant cost of providing caregiving services, caregivers also suffer from a wide range of health issues. This includes chronic depression, physical ailments (headaches and pain), heart disease, higher mortality rates, and elevated mental health issues such as stress, anxiety, or depression.viii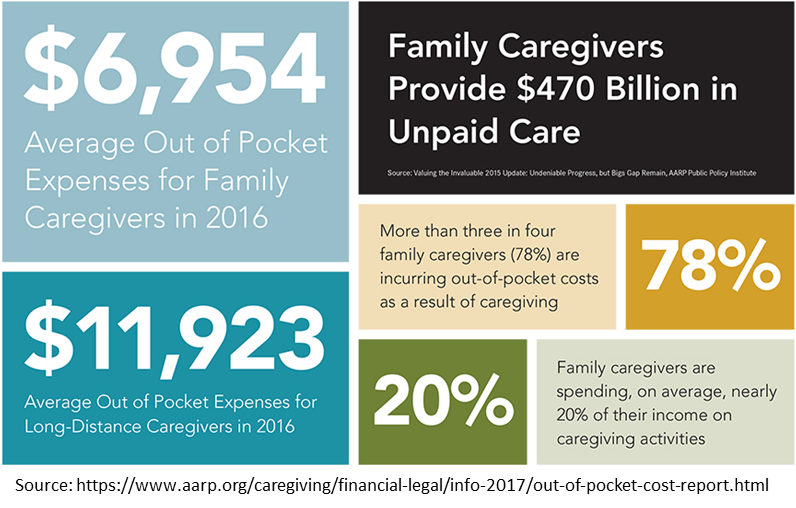 Of working caregivers, 70% have reported difficulty in managing their job and caregiving responsibilities.ix In 2011, caregivers missed an average of 6.6 workdays per year. With approximately 17% of full-time workers in the U.S. also acting as caregivers, this totals 126 million missed workdays each year, costing an estimated $25.2 billion in lost productivity. Including caregivers who work part time, absenteeism costs would be even higher.x
Competitors
CareZone: Founded in 2011, CareZone helps caregivers stay organized and be effective when caring for a patient. The company created an app that allows users to organize files, contacts, and medications as well as to coordinate with family members and other caregivers using a shared calendar and journal. Through the app, individuals can invite other users, such as family and professional caregivers, to receive access to their information, which can be revoked at any time. The app is available on the iTunes App store, Google Play, and the company's website. For each person receiving care that sets up a profile, CareZone charges a monthly subscription of $5 or annual subscription of $48.xi
Lotsa Helping Hands: Founded in 2005, Lotsa Helping Hands supports online caregiving communities to help promote the health and work-life balance of caregivers. Through its website, individuals may create online communities, which bring together caregivers and volunteers able to provide assistance. With the Help Calendar, caregivers can post requests for support, such as meals for the family or rides to medical appointments, and members of the caregiver's online community can quickly find ways to help. Lotsa will send reminders and help coordinate logistics automatically. To date, nearly one million members have lent a hand through a Lotsa Helping Hands Community and more than 50 national nonprofit organizations partner with Lotsa to support caregivers.xii The company also offers both customized, private-label versions of its service to organizations as well as opportunities for sponsorship and affiliate marketing programs.
CaringBridge: Founded in 1997, CaringBridge is a nonprofit organization offering free personalized, password-protected websites to people facing a serious medical condition or hospitalization, undergoing medical treatment, and/or recovering from a significant injury, illness, or procedure. Its functionality is similar to a blog. The service allows family members and friends to receive up-to-date information via a single website and visitors can post their own messages of support and encouragement to the family and patient. Since inception, more than 600,000 CaringBridge websites have been created.xiii In 2016, the company received over $6.6 million in contributions.xiv
CancerAid: Founded in 2015, CancerAid has developed a mobile app that brings cancer patients and caregivers greater structure with an easy-to-use organizational tool, a medically reliable source of cancer information, and access to a supportive online community. Patients can store medical records, results, and specialists' details; build a complete profile of diagnostic information; and track and manage symptoms, treatments, and medications. They can also learn about treatments with medically reliable and peer-reviewed in-app content and browse cancer specialists by field, location, and institution. Over 40,000 users across 24 countries access CancerAid's platform with 11,000 active daily users.xv CancerAid's premium services include telemedicine capabilities, managing medication adherence and survivorship care plans, and performing research more efficiently. These features are licensed to healthcare providers and are not available to the general public. The public-facing app is available for free via iTunes and Google Play. In October 2016, the company raised $1.25 million at a $4.25 million valuation led by Clinton Capital Partner.xvi
Curatio: Founded in 2013, Curatio is a health software company that provides patients with a social support system to achieve better health outcomes and self-management skills. The platform allows patients to connect privately with other people who may have similar experiences, which helps patients build a support system and feel like they're not alone. Curatio also has a disease management tool that helps simplify daily health management for patients by providing symptom tracking methods and reminders. In addition, Curatio connects patients with information validated by medical experts to help them learn more about their conditions. Curatio has raised $1.5 million as of March 2017 and has appeared on Dragon's Den, a British television series similar to Shark Tank.xvii
Patient IO: Founded in 2013, Patient IO is a mobile app available through the iTunes App and Google Play stores that helps connects patients with caregivers. The app allows patients to send and receive secure messages with their care teams, collaborate on reminders, track and share health data, and invite family and other caregivers to access care information. Patient IO also has a care management-facing side that helps caregivers stay in the loop between patient visits by allowing them to guide dosage and schedule complex medication therapies for patients. In 2016, Patient IO was acquired by athenahealth for an undisclosed amount. Following this deal, Patient IO's patient self-management solution has become the foundation for athenahealth's mobile patient-facing app, athenaWell.xviii
AARP CareGiving: AARP recently released an app called AARP Caregiving. It's available for free from the Apple iTunes App Store and can be used to help manage medications, keep up a list of contacts (doctors, insurance, friends, and others), store insurance card and photo ID images, and more. Users can even share access to the app with friends and family who are on their caregiving team and make sure everyone is in the know when it comes to tasks, appointments, and medications.
Executive Team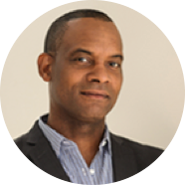 Michael Jordan, Co-founder and CEO: Mike is a proven senior startup executive with deep expertise in technology innovation, new product development, product strategy, partnerships, and business development. Most recently, he was the Co-founder and CEO of Reviver.io, an automotive internet of things (IoT) startup that has reinvented the license plate as an IOT endpoint capable of delivering autonomous transportation services to vehicles. Mike has served as a senior executive and product strategist for hardware, digital advertising, and gaming companies including Reviver.io, Doppelganger Inc. (acquired), NJM Media Group, Novo Interactive (acquired), and PE Applied Biosystems. He holds a degree in Mechanical Engineering from Northwestern University.
john
$10,999.00