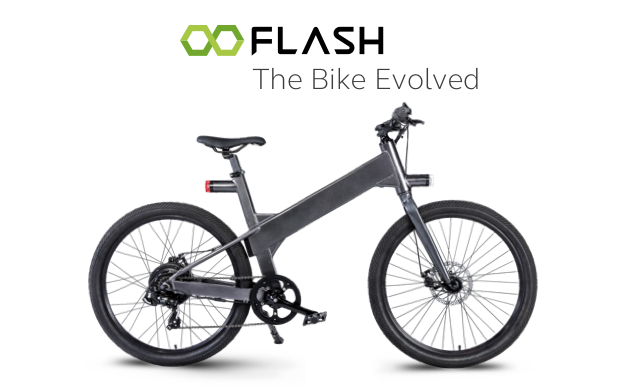 We all know how great it is to ride a bike: it's healthy for the mind, body and soul; it beats sitting in traffic; and it's good for the environment. Plus, there's real cost savings in gas, parking and car maintenance.
But let's face it; like millions of others, there are physical and mental barriers that keep you from grabbing those handlebars every day.
Our purpose-built features and technology–obsessively developed from the ground-up in order to address concerns over distance, safety and security–are baked right into the bike, so you don't have to worry about a thing.
Flash isn't just an electric bike; it's an evolution in what a bike can be.


---


---


---



In an effort to keep Flash as affordable as possible–and keep the buying process as simple as possible–we are not offering a multitude of Perks with various modifications and upgrades for you to decipher with a spreadsheet and calculator.
Instead, our perks follow a simple structure: the earlier you order, the better pricing and shipping date you'll get.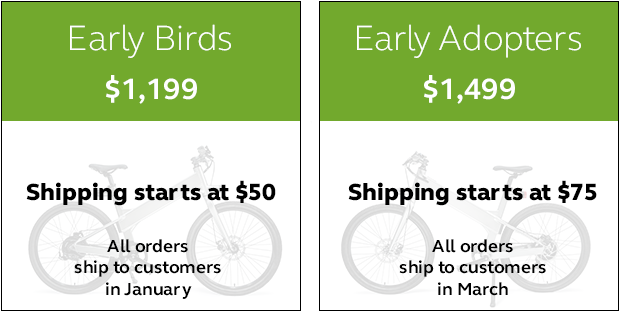 Every perk features the same bike with all the features described below and on our website. All you have to decide on is your favorite color: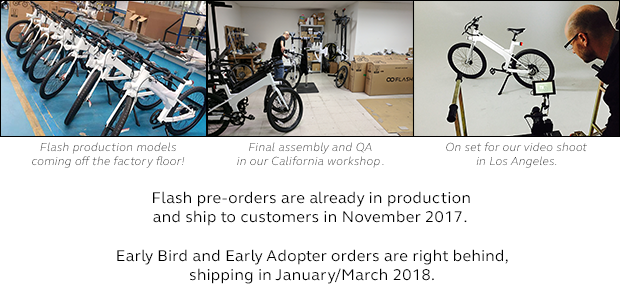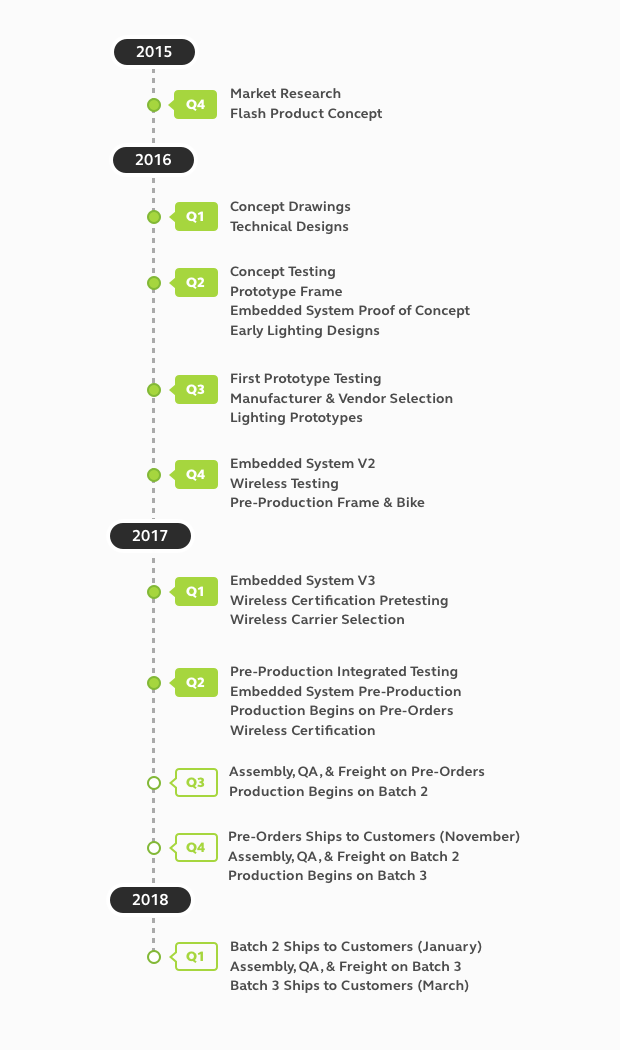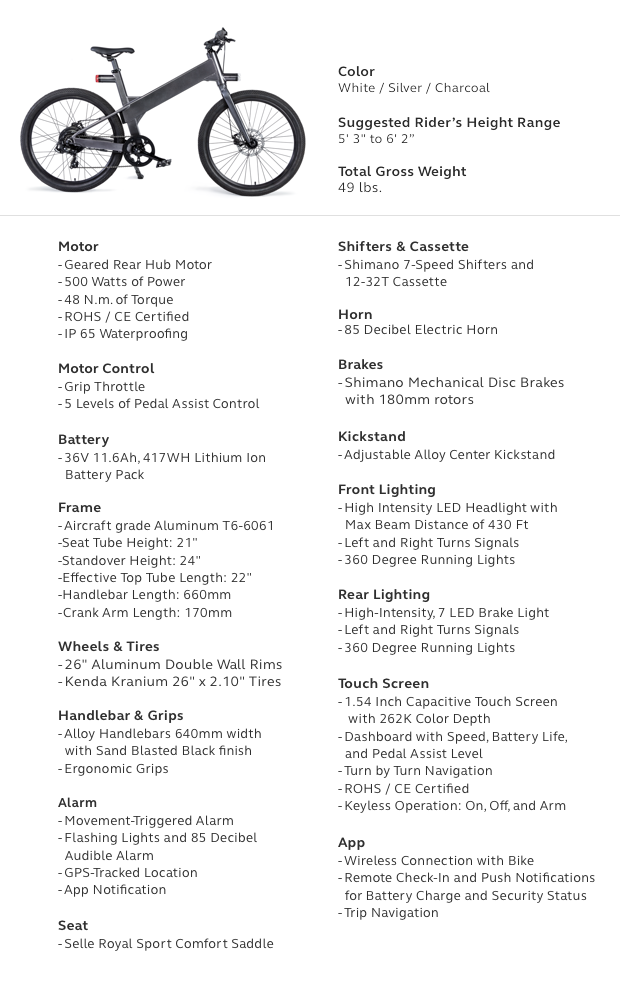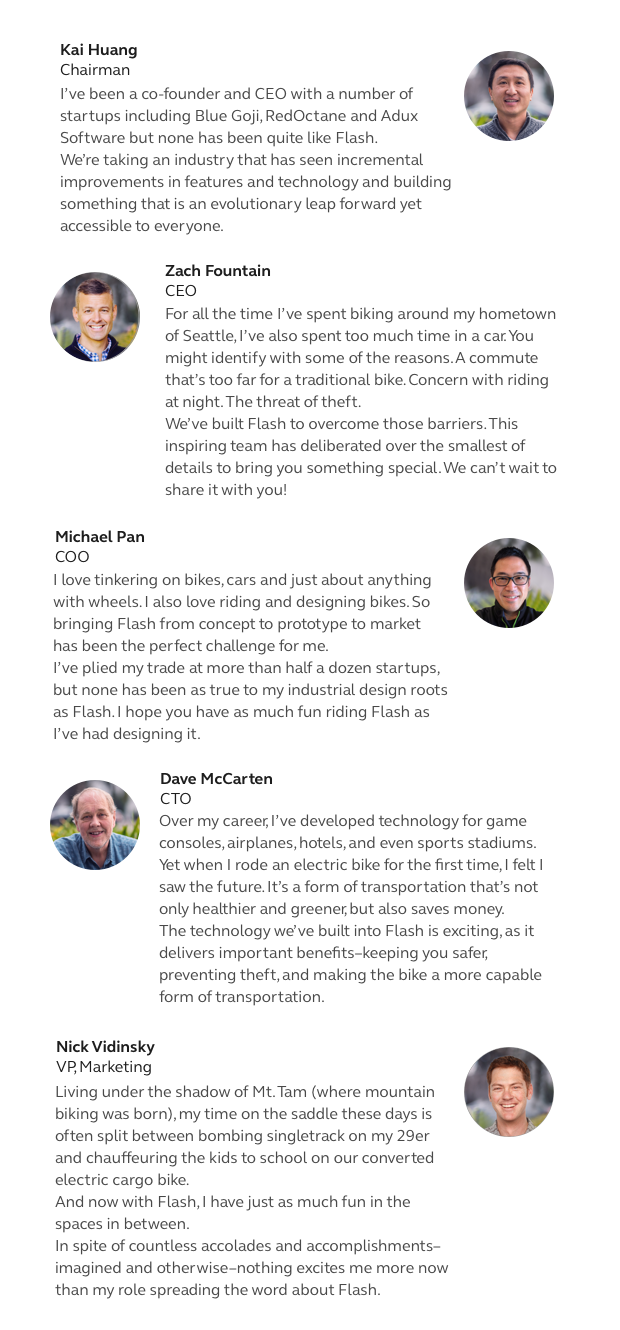 Looking for more details? If the specs above don't answer your questions, check out our Help Center with tons of specific answers to questions on a range of topics, from bike fit, to battery usage, to service and warranty, and more.
Below are some of our more frequently asked questions:
Buying Flash
How many frame sizes are there? Am I the right height and weight?
Flash is currently offered as a single one-size-fits-most frame, with a suggested rider's height of 5'3" up to 6'2".
It's also worth noting that we designed Flash with an angled down tube so that it's easier for people with shorter legs or physical limitations to get on and off.
Check out this Help Center article for lots of detailed sizing information.
Can I attach accessories like a rack or fenders?
Yes! Check out this list of compatible third-party accessories.
For what kind of riding is Flash intended? Can I take it mountain biking?
Flash is intended to be a great bike for light recreation, getting around town without your car, exploring on a Saturday afternoon, etc. We think Flash is fantastic for that sort of general use, but if you have other more specific biking needs, we'd rather be clear so that you don't end up with a different expectation as to how Flash should perform.
With that said, please understand that Flash was not built to be a cargo bike for hauling tons of gear, nor is it intended by design to be used for long-distance touring or towing. Flash performs best on pavement and can handle light trail use, but it's certainly not meant to be ridden as a mountain bike.
We love to ride Flash to and from the office every day, but if you're a hardcore bike commuter with specific needs around weight and specialized accessories, then Flash may not suit your needs.
Will you ship outside of the United States?
Unfortunately, we do not ship internationally and we can't warranty the bike if it's used outside of the United States, as it isn't designed to work internationally. The details around that are very boring, but it's related to certifications, regulations, and wireless performance. Sorry!
How assembled is the bike when it arrives?
Flash arrives partially assembled. You'll need to spend about 15 minutes on final assembly, using some required tools (crescent wrench, allen wrench, torque wrench). You'll be doing things like attaching the wheels and pedals, and tightening the handlebars. Honestly, it's not too difficult and the manual will walk you through it. If you have any questions during final assembly, just let us know. If you're concerned about physical strength, a tech at your local bike shop can do it very quickly and easily.
What sort of return policy and warranty does Flash come with?
If, at any point during the first 30 days after you receive your Flash, you feel that the bike does not match how it was described to you on our website or through any communications with us, please contact us to discuss a return. Bike components are warrantied for 2 years. Electronics are warrantied for 1 year. Read our full warranty here.
Can I cancel my order for a refund?
Orders can be cancelled and refunded at any time prior to order fulfillment (when we ship the bike to you). The process and amount of refund both depend on whether our Indiegogo campaign has ended.
If our Indiegogo campaign is still active:
Please refer to Indiegogo's refund policy and instructions for requesting a refund.
If our Indiegogo campaign has ended:
Please contact us directly to request an order cancellation and a refund of your payment minus a 10% fee (to cover processing fees and Indiegogo platform fees).
Riding and Maintaining Flash
Can the battery be removed from inside of the frame?
Flash's battery is inside the bike frame (within the down tube, to be exact), and is not intended to be removed by the rider. We realize that some people prefer to be able to swap out the battery, but our preference is for a simpler and cleaner design. Putting the battery inside the frame also helps us keep Flash lighter and more affordable, and protects the battery from theft. Should the battery need service, it can be removed from the frame.
How do I charge Flash? And how long will it take?
To charge Flash, simply plug the charging cable (included) into the small charging port located on the frame (on the underside of the down tube, to be precise).
It takes about 4-5 hours to go from fully depleted to fully charged. However, it's good to know that our battery does not have "charge memory," which means that you don't need to worry about waiting until the battery is fully charged before using it, or letting it run out completely before you charge it again.
For more details on battery usage and maintenance, check out these articles in our Help Center.
What do I do when my bike needs service?
For mechanical issues with general bike parts–including wheels/tires, brakes, cables, shifter, chain, cranks/pedals and seat–just head on in to your local bike shop. For any issues with electrical components–including the battery, motor, touchscreen, lights and handlebar controls–we'll work directly with you to resolve the issue.
App & Wireless Connectivity
Do I have to use the app in order to ride Flash?
When you first receive your Flash, you need to use the app for some initial setup, like creating your secure PIN code for the bike. After that initial setup, if you don't want to use the app for anything else, you certainly don't need to.
However, the app does provide you with some great features:
Live check-in on battery and security alert status, no matter where you are.
Arm/disarm Flash from any location.
Enter a destination on the app and Flash will guide you with turn-by-turn navigation.
Track your personal riding data, including overall distance and time.
How does Flash's wireless connectivity work? Do I need to set that up or pay for it?
Flash uses a combination of Bluetooth and wireless technology to connect with your phone and send you updates on battery and alert status, as well as provide turn-by-turn navigation.
In order to set up all of this functionality, the only thing you need to do is pair your phone with your Flash during initial setup. This allows the two to communicate securely and seamlessly. When you receive your Flash and launch the app on your phone, you'll be walked through the quick and secure pairing process. Once that is complete, you're good to go.
You don't need to do anything to set up your Flash's wireless connection. The bike arrives connected and ready to go, and it is completely separate from your own personal wireless account. You don't ever have to deal with it (or pay for it). Just get out and ride!
Will Flash's wireless coverage work in my area?
We use T-Mobile for Flash's wireless coverage in the United States. Please refer to T-Mobile's coverage map to check coverage in your area. Due to issues with certifications, regulations and wireless performance, Flash is not designed for wireless use outside of the United States
tyga
$6,000,000.00

kris
$5,999.00