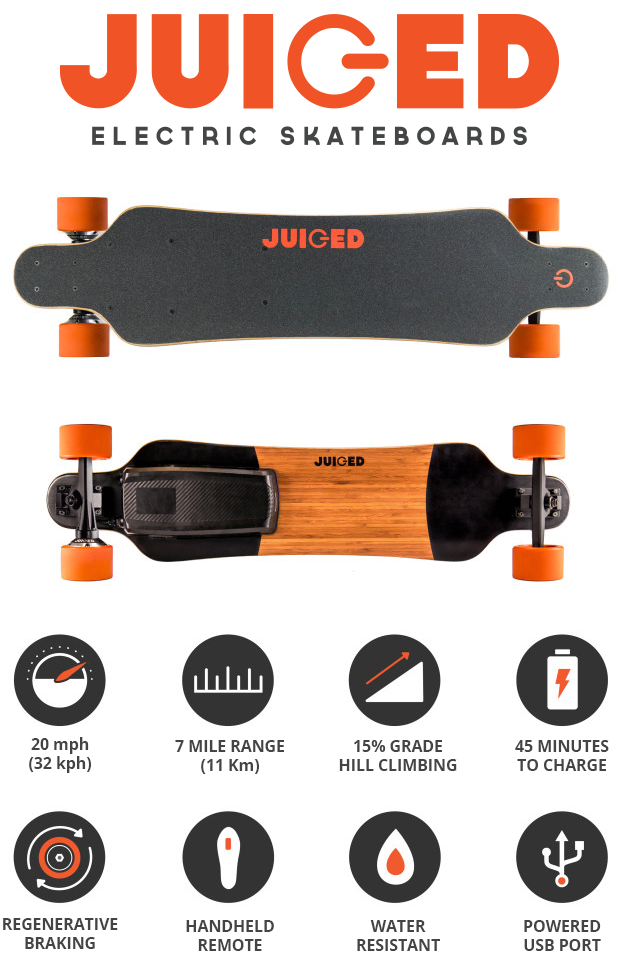 What makes Juiced different?
Is it the fastest? No
Is it the most powerful? No
Does it have the best range? No
Is the technology out of this world? No
Does it offer exceptional value? Yes
Bang for buck, Juiced kills it.
We wanted to build a board we would love to ride, but also a board we could afford. Juiced delivers a fantastic ride, at an excellent price.
We are not claiming the BEST, but the Juiced board delivers! 
Quality
From the trucks, to motors, batteries and control boards, every piece of the Juiced board went through countless revisions to strengthen and fine tune. Our maple/bamboo deck was designed with a high level of flex ( a  boards  natural suspension) to deliver a smooth cruising experience. After over a year of development, we are extremely pleased with what Juiced has become today.  Components and parts are readily available and have been designed as user replaceable to ensure your board is always rockin.
Affordable
This was the driving factor that kept us focused while creating Juiced. There was yet to be a quality board available at an affordable price. We kept our team small, our overhead low. Removed unnecessary and cost bloating features such as flashy lights, gimmicky apps, and carbon fiber decks. We kept the design pure and crafted an exceptional riding experience.
Highly Weather Resistant
Born and raised in Canada, you learn to adapt to the ever-changing weather. Juiced is no exception :). A board that couldn't handle a little water, or a mid-day shower didn't really work for us. For this reason, we sealed the motors inside the wheels and sealed up all the edges. You won't want to take your board swimming, but it CAN handle a lot. We battle tested the Juiced board in the harsh conditions of Canada taking on puddles, slush, and even snow. Similar though to a regular skateboard, if you do get your components wet, you will want to dry them off when you are done riding to avoid rust and damaging bearings 😉
Hands-on Reviews
Daily Tekk
Juiced Boards Review – $850 LESS THAN A BOOSTED BOARD!
Casey Neistat
$450 BOOSTED BOARD REVIEW
You're gonna love the ride.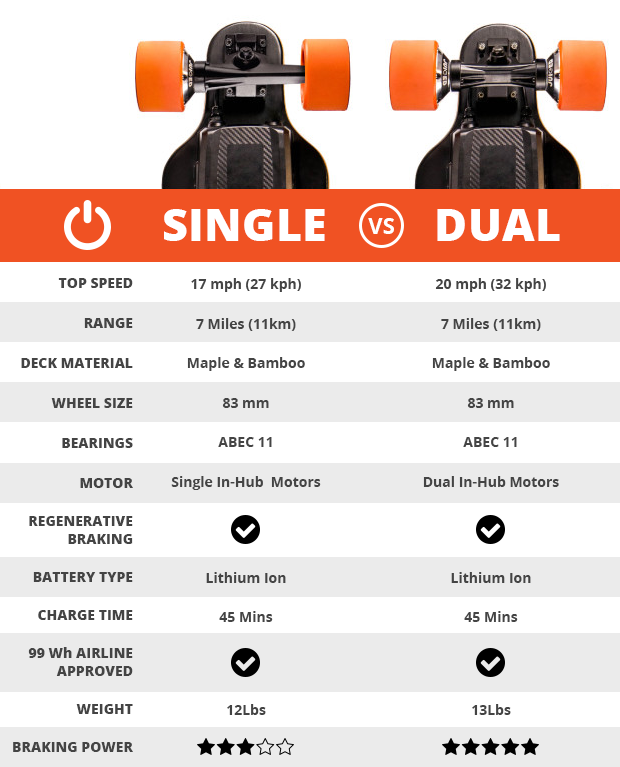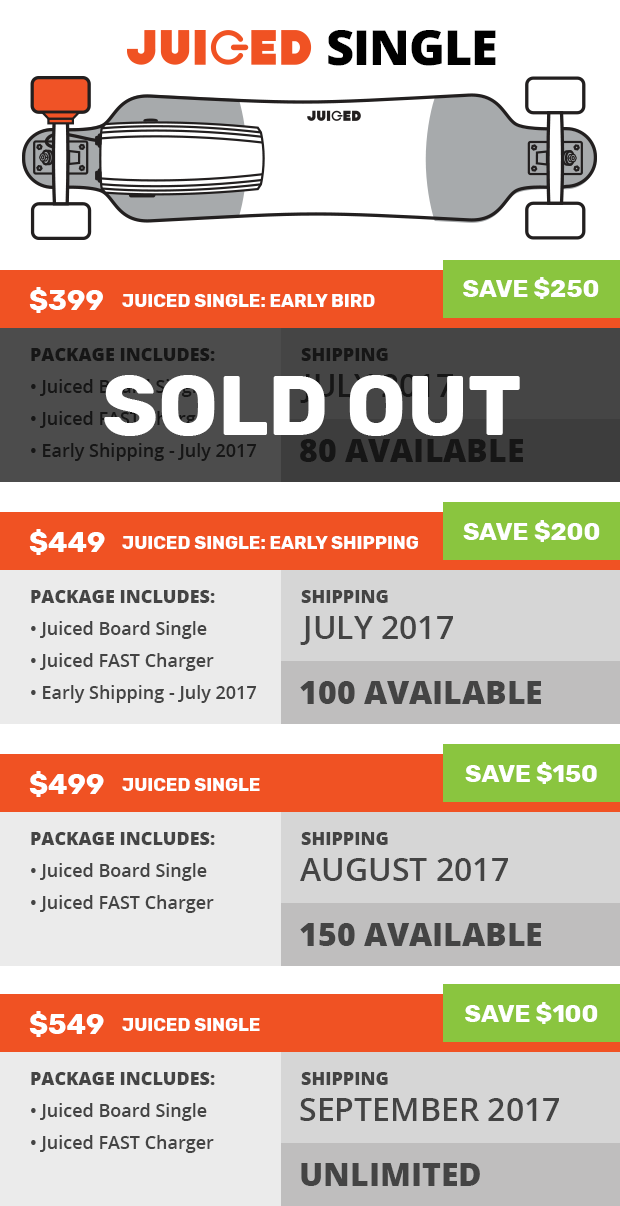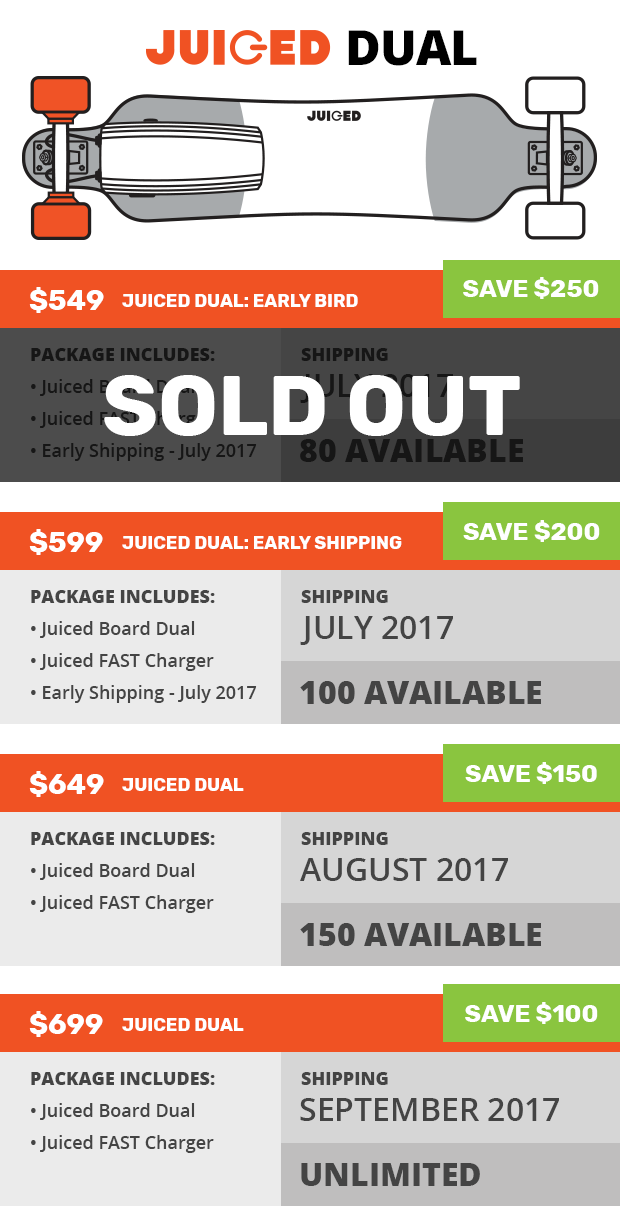 4 Speed modes make learning quick and easy.
We did away with the old school belt drive and went with custom built in hub motors that are durable, sealed, and highly dust and water resistant.
Our Samsung lithium ion battery keeps you going for up to 7 miles, and only takes 45 minutes to charge.
Regenerative braking collects and stores energy that is typically lost while slowing down to keep you cruising longer.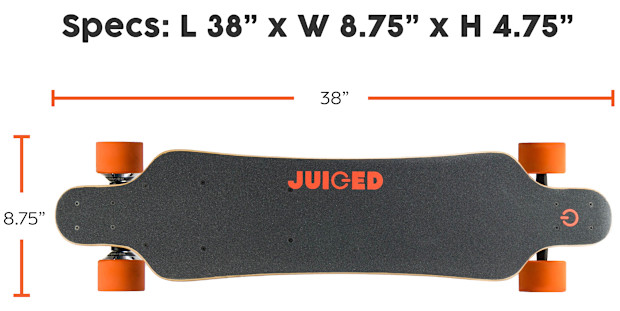 Maple + Bamboo = Durable & Flexible
Pebbles and cracks… No problem. The Juiced Boards custom oversized wheels have you covered.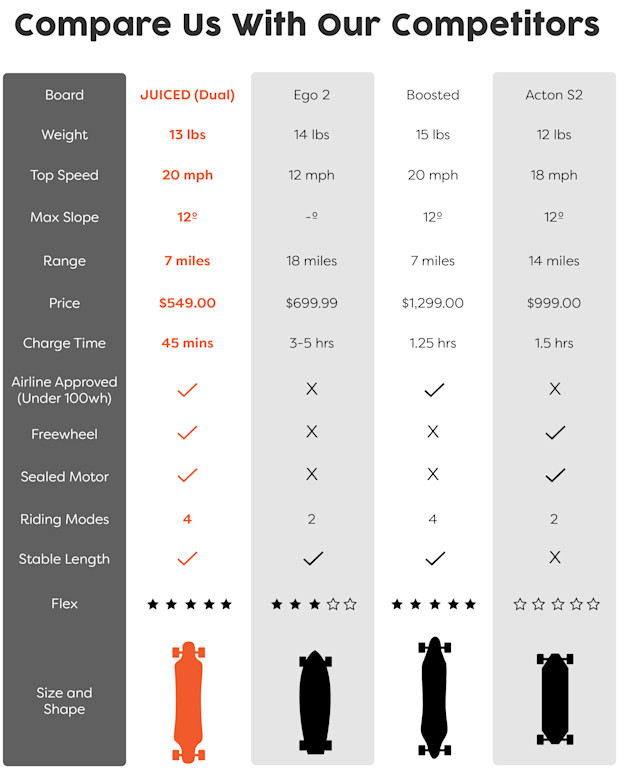 When will we be ready to ship?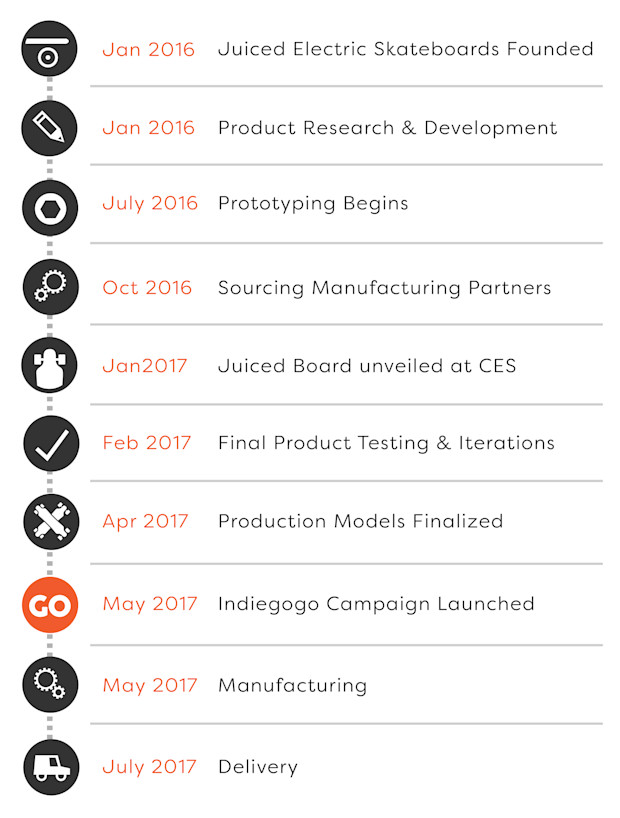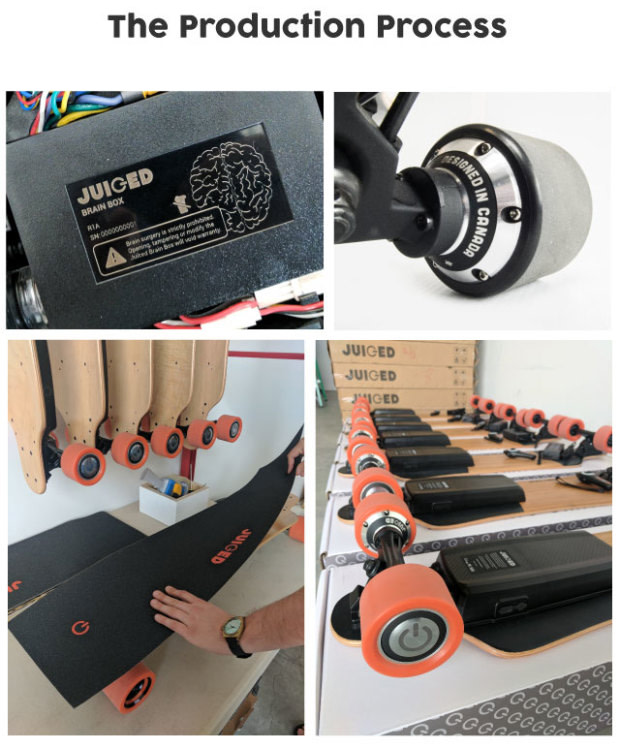 We can't wait to see you out there!!

Stay up to date and let's be friends.
FAQ'S
Q. Do you ship Internationally?
A. You bet we do!
Canada & USA is $25 flat rate.  Most other countries is approx. $100 more.  Please proceed through reserving your board for exact shipping to your worldwide address.
Q. Is there a warranty and return policy?
A. Yes!
Your new Juiced board comes with a 14 day satisfaction guarantee*, and a six month warranty against manufacturer defects.
*15-20% restocking fee may apply .
Q. If I am outside of my warranty period, can I still get parts?
A. No…jk. Of course you can 🙂
We already have a readily available stock of parts if a series of unfortunate events happens to your board.
Q.  When can I expect my board to arrive?
A. Early Bird and Early Shipping packages are scheduled for delivery in mid July.  Second round of deliveries will begin in August.
More specific dates will be announced as we get them.
Q. What happens if I run out of battery?
A. You ride it like a skateboard; kick.
Because of our In-Hub motor design, there are no belts slowing the drive wheels down.  There is no noticeable drag from the wheels.  If you're REALLY against riding it like a regular board, take a coffee break and with the 45 minute quick charger you're right back to it.
Q. Can I take my board on airplanes with me?
A. Yes.  There are few restrictions on electronics under 100wh.
We designed Juiced to be as close to this as possible, but without going over.  Any electric skateboard over 100wh has ZERO right to be taken as carry on or packed in luggage.  It is a gamble everytime, as the decision is entirely up to the attendants, airport security, checkpoint/screenings etc. if any of them don't want your skateboard to travel, or they're just having a bad day they can say 'No'.  By request, we will send you TSA documents to ensure your Juiced Board has minimal to no problems traveling*
*Airlines and airports will always make final decisions, but TSA makes it clear that under 100wh should not be any problem at all.
For more information about Juiced check out:
This was made possible with the help of the awesome Sharkk Labs team!

kim
$7,999.00