Company Highlights
Has won 196 awards in various national and international competitions since 2014
Was awarded double gold for its 2015 Sangiovese at the 2018 San Francisco Chronicle Wine Competitioni
Restaurant ranked in the top 10 for Best Winery Restaurant in 2016 (No. 2)ii  and 2017 (No. 9)iii  in the 10Best Readers' Choice travel awards
Currently has over 550 members in its wine club
Perks
*The Company will provide the following "perks" to investors in addition to the Series A Preferred Membership Interests purchased, at each level of investment defined below, after the Series A Preferred Membership Interests are issued to the investor.
$250: $25 Gift Card
$500: $52.50 Gift Card
$1,000: $110 Gift Card
$2,500: $325 Gift Card
$5,000: $700 Gift Card
$10,000: $1,500 Gift Card
$15,000: $2,400 Gift Card
$20,000: $3,400 Gift Card
$25,000: $4,500 Gift Card
$50,000: $7,500 Gift Card
Company Summary
Opportunity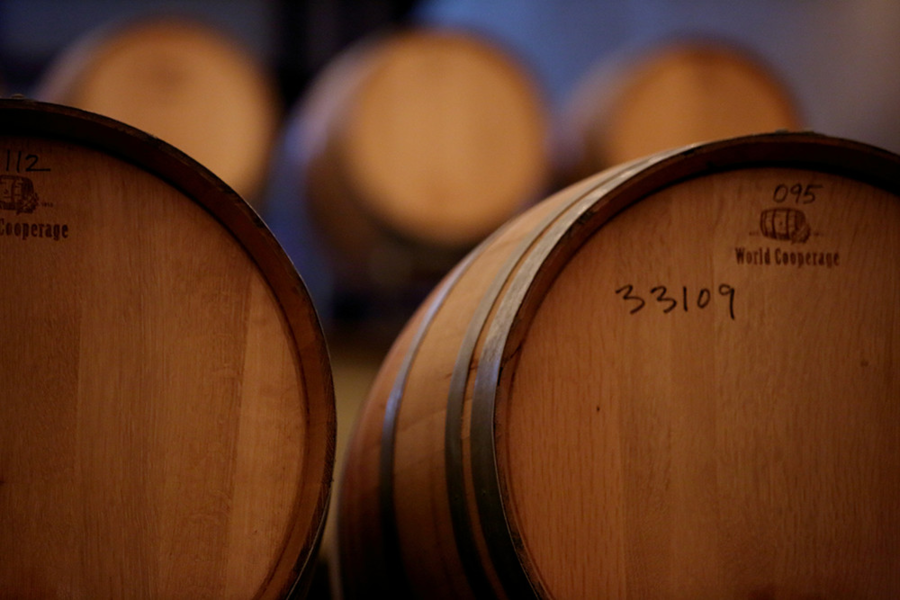 Founded in 2000, Los Pinos Ranch Vineyards is a destination winery located two hours east of Dallas. The 40-acre estate is nestled in the Piney Woods of East Texas and offers tastings, tours, a full-service restaurant, live jazz, and Tuscan cottages for overnight rental. Los Pinos offers a wide selection of award-winning dry wines produced from its Texas High Plains vineyards as well as fun, whimsical sweet wines from its estate vineyards.  These award-winning wines complement the picturesque setting and cuisine that guests will find upon visiting. Los Pinos wines are also in wide retail distribution, available in over 600 locations.
As one of the fastest-growing Texas wineries, Los Pinos is seeking capital to support the increasing demand for its wines. Los Pinos has the tank capacity and capability to produce substantially more wine with the purchase of additional grapes, barrels, and some upgraded production equipment.
Product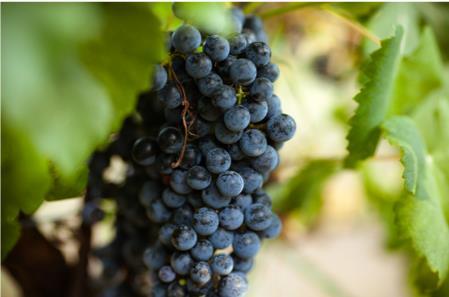 The Vineyard & Winery Los Pinos has approximately 13 acres of vines planted at its East Texas vineyard. These grapes are used to make many of its sweet wines. There are two primary varietals on the property – Black Spanish and Blanc Du Bois. With their 2017 harvest, Los Pinos processed approximately 175 tons of grapes. Los Pinos has the capacity to produce substantially more wine volume with additional grapes, equipment, tanks, and barrels.
The Wines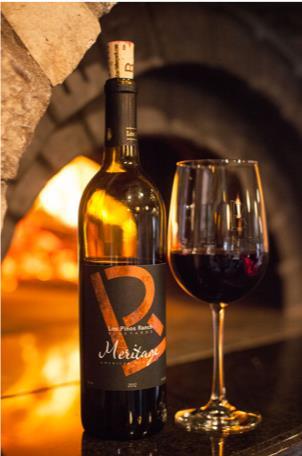 Los Pinos specializes in crafting wines made from predominately Italian and Spanish varietals grown both at the Los Pinos vineyards estate in east Texas and at several vineyards in the Texas High Plains. The east Texas vineyard is on the Los Pinos estate; those in the Texas High Plains provide grapes under long-term contracts with Los Pinos. On the dry wine front, Los Pinos offers traditional varietals such as Cabernet, Sangiovese, Pinot Noir, and Chardonnay. There are also several blended wine offerings. In addition, Los Pinos offers several whimsical sweet wines (white, blush, and red) and dessert wines.
The Restaurant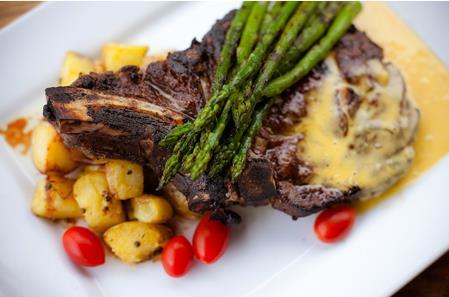 The Fork and Spoon restaurant offers indoor/outdoor seating for up to 180 people. Los Pinos has additional capacity in its barrel room for diners and/or special events. The restaurant offers a seasonal menu and supports local farmers and purveyors whenever possible. Los Pinos also has a garden on the property and makes efforts to use seasonal produce grown on site.
La Famiglia Wine Club
The La Famiglia Wine Club enables its members to sample different wines throughout the year while enjoying discounts and special events exclusive to members. Members will also receive notification of new releases, awards, and upcoming events. Members may also receive wines not available to non-club members.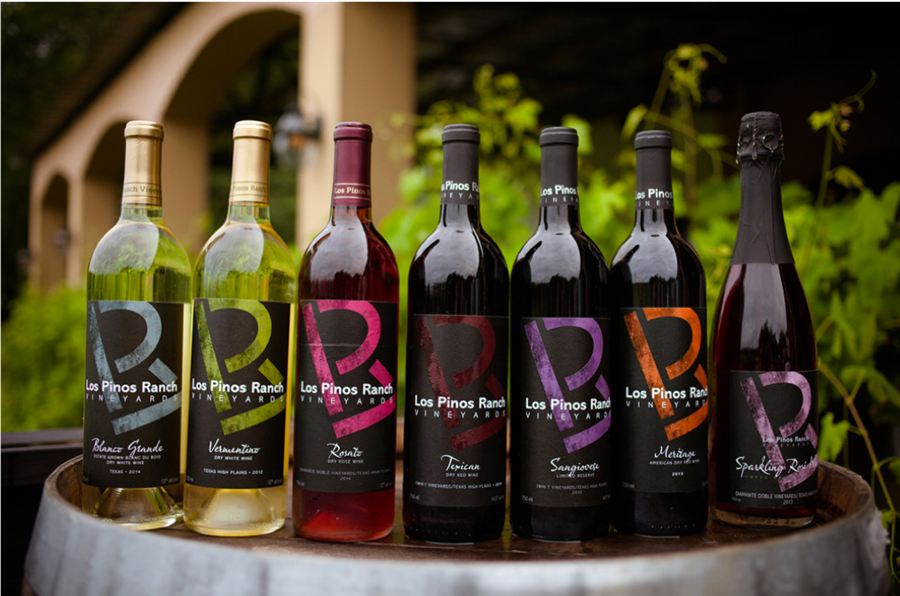 The Los Pinos Cellar Master makes the selections for each shipment. However, members  have the opportunity to experience some standard vintages as well as choose new ones throughout the year. Club shipments are made quarterly in February, April, October, and December. In addition, special offerings of limited releases and/or library vintages are offered to wine club members from time to time.
The La Famiglia Wine Club has three levels:
Amici: Three bottles four times per year as well as a 10% discount on wine purchases
II Barone: Six bottles four times per year as well as a 15% discount on wine purchases
Maestro de Vino: One case four times per year as well as a 20% discount on wine purchases
Members may choose to receive sweet wines only, dry wines only, or a mix of both. Members also have the ability to add to and/or modify shipments via an online portal prior to pickup/shipping.
Use of Proceeds and Roadmap
The proceeds of the offering will be primarily used for equipment purchases. This includes the purchase of a grape sorting table, a steamer, a pump, and a vine sprayer. To the degree Los Pinos can secure better-than-anticipated pricing, a new destemmer also will be purchased.
Los Pinos plans to continue to grow through its relationship with its distributor and direct-to-consumer retail efforts that may be further enhanced by the development of off-site tasting rooms. Currently the company is considering options to open tasting rooms in Grapevine, Texas, Fredericksburg, Texas, or both. The company will also seek to make strategic acquisitions of wineries that can add other varietals to its wine catalogue.
Business Model
Los Pinos' business strategy leverages its unique ability to grow and procure quality grapes and, in turn, to create multiple types of high-quality wines to please most palates, at price points that appeal to a wide spectrum of consumers. Most of the wines cost between $15 and $28 per bottle.
Los Pinos' wines are sold through three primary channels:
Retail outlets via its large national distributor
Direct-to-consumer via its website and restaurant/gift shop
Wine club
Los Pinos also offers wine tastings, tours, a full restaurant, and cottages for rental on site.
User Traction
Since 2014, Los Pinos has won 196 awards in various national and international competitions. In 2018, it was awarded double gold for its 2015 Sangiovese at the San Francisco Chronicle Wine Competition. The winery also took home five silver medals and four bronze medals at that competition.iv

In 2017, Los Pinos sold 10,533 cases of wine, up 24% from 8,519 cases in 2016.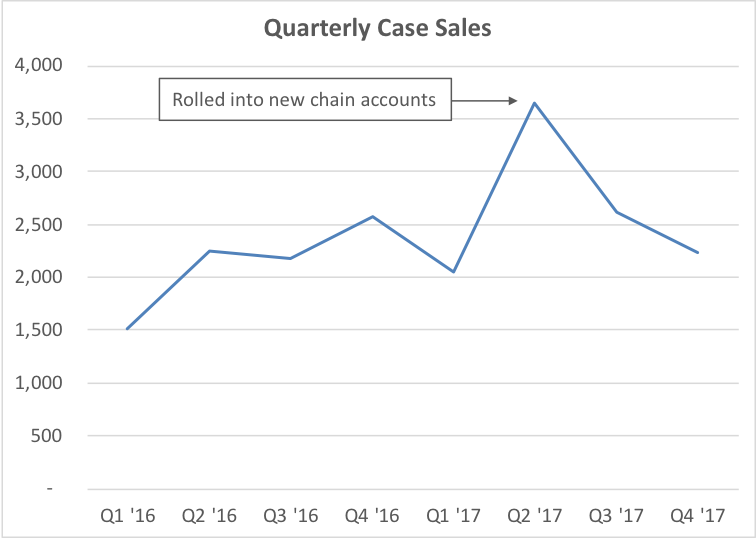 Note: Quarterly financials have not been audited or subject to financial review
In 2017, Los Pinos generated nearly $2.2 million in revenue. The majority of revenue was generated from wine sales (~$1.49 million). In 2016, the company generated over $2.0 million in revenue.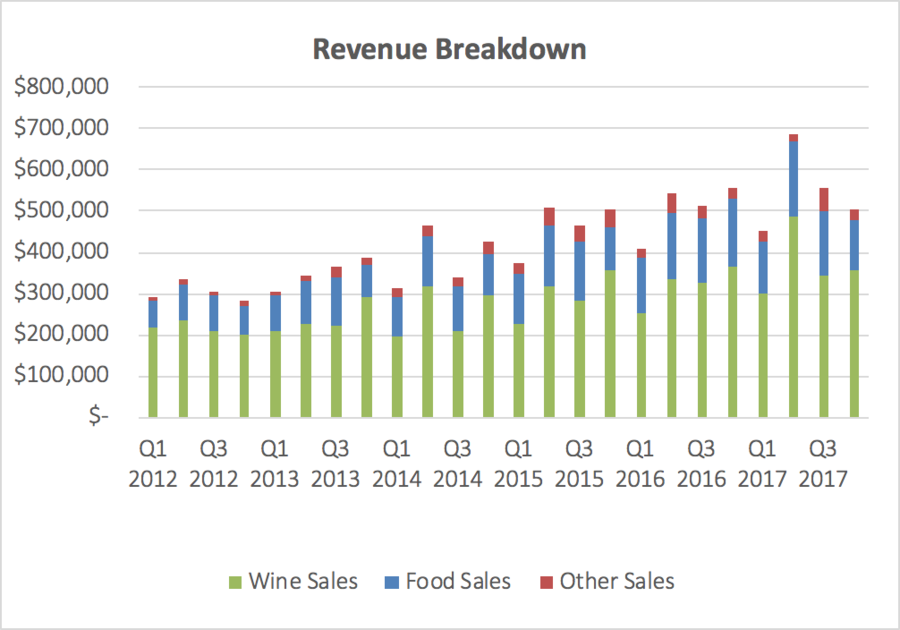 Note: Quarterly financials have not been audited or subject to financial review
In 2017, Los Pinos' expenses totaled over $2.3 million. Operating expenses were ~$1.5 million and cost of goods sold were ~$850,000. In 2016, expenses totaled over $2.1 million; operating expenses were ~$1.4 million and cost of goods sold were ~$670,000.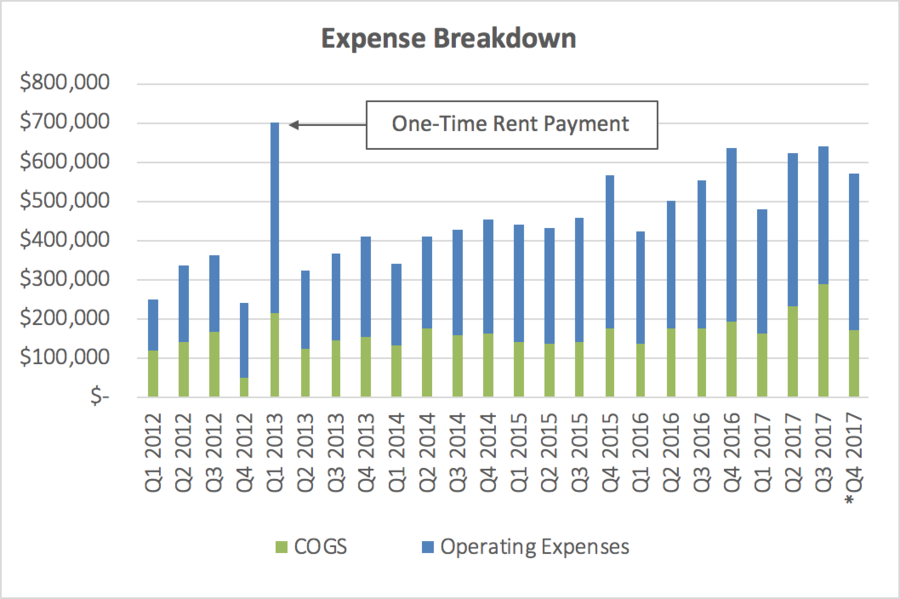 Note: Quarterly financials have not been audited or subject to financial review
In 2017, Los Pinos had a net loss of roughly $113,000, compared to a net loss of approximately $90,000 in 2016.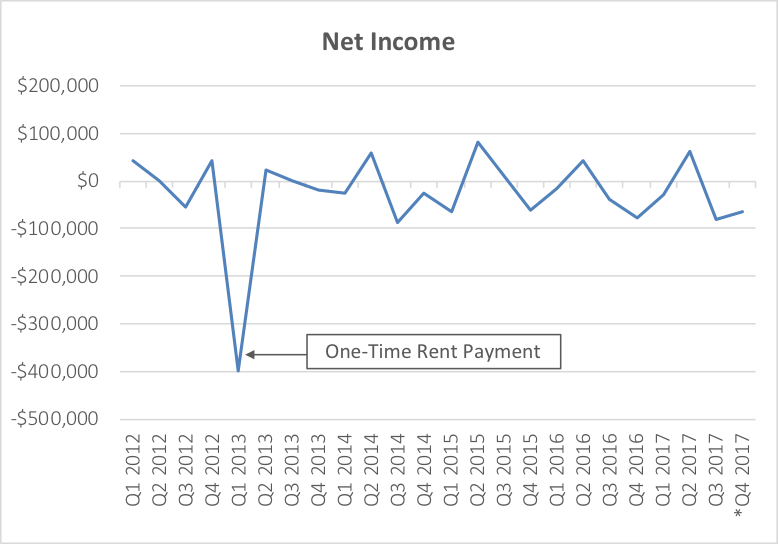 Note: Quarterly financials have not been audited or subject to financial review
Industry and Market Analysis
The U.S. has remained the world's largest wine market by volume since 2010. Wine shipments to the U.S. from all production sources – including foreign producers – grew to 399 million cases in 2016, up 3% from 2015, with an estimated retail value of $59.5 billion.v  Excluding foreign producers, over 800 million gallons of wine were produced in the U.S. alone. On average, 85% of domestic wines comes from California.vi  California shipped 238 million cases within the U.S. in 2016, representing 60% of the U.S. wine market. California wine shipments within the U.S. also reached an estimated retail value of $34.1 billion, up 4.6% year over year. The state shipped a record high of 238 million cases domestically, up 2% from 2015. Including exports, California also set a record in 2016 with 285 million total cases shipped. In aggregate, U.S. wine shipped internationally, 90% of which came from California, generated a record $1.62 billion in winery revenues in 2016; 461 million liters, or 51.2 million cases, were exported in 2016.vii
The number of wineries in the U.S. has increased roughly 6%, from about 8,912 wineries as of October 2016 to 9,434 wineries as of October 2017.viii  A notable wine producing region in the U.S. is Texas. The Texas wine industry generates an annual economic impact of over $13.1 billion for the state. There are approximately 436 physical wineries in Texas, with approximately 1.7 million tourists spending over $716 million. The Texas wine industry supports more than 104,000 full-time jobs paying $4.3 billion in wages.ix
Helping fuel the growth of the U.S. wine market is an increase in direct-to-consumer (DTC) sales, which has become a significant revenue generator, particularly for small wineries. In fact, about 5,500 U.S. wineries that are considered producers accounted for about 80% of the $392 million generated by DTC sales in the 2016.x  Though growing local regulations may restrict opportunities for small wineries to sell direct, the increase in per capita consumption of wine has allowed for DTC sales to keep growing.xi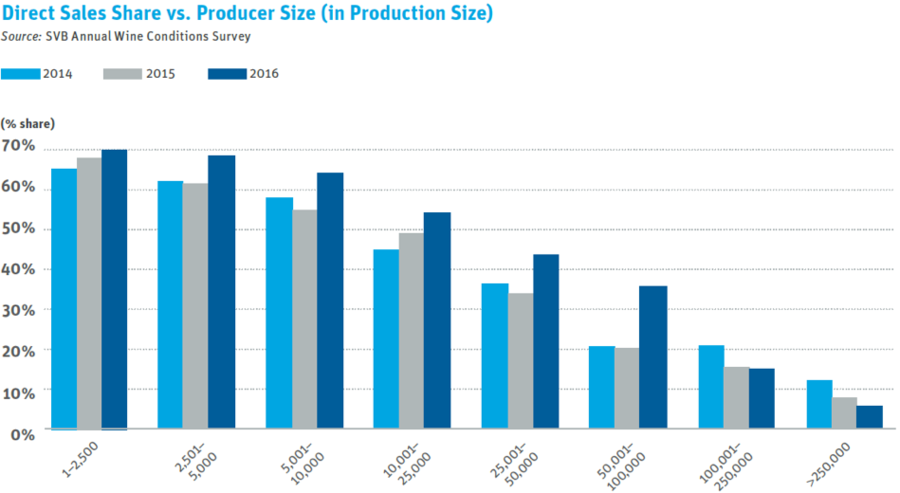 One of the most important factors shaping the future of the U.S. wine market is the changing demographic. Baby boomers, while still the largest group of U.S. wine consumers and the largest consumers of premium and luxury wines, are predicted to consume less wine as they continue to age.xii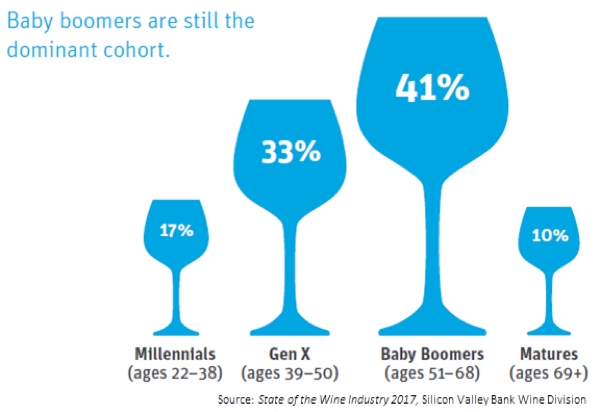 Meanwhile, Millennials are expected to quickly redefine the wine category.xiii   While most Millennials are currently focused on $8 to $14 price range, particularly in the red wines category, their price point is expected to increase as their incomes grow.xiv  Between 2011 and 2016, DTC shipments for wine priced under $15 were up 150%, more than double the industry average.xv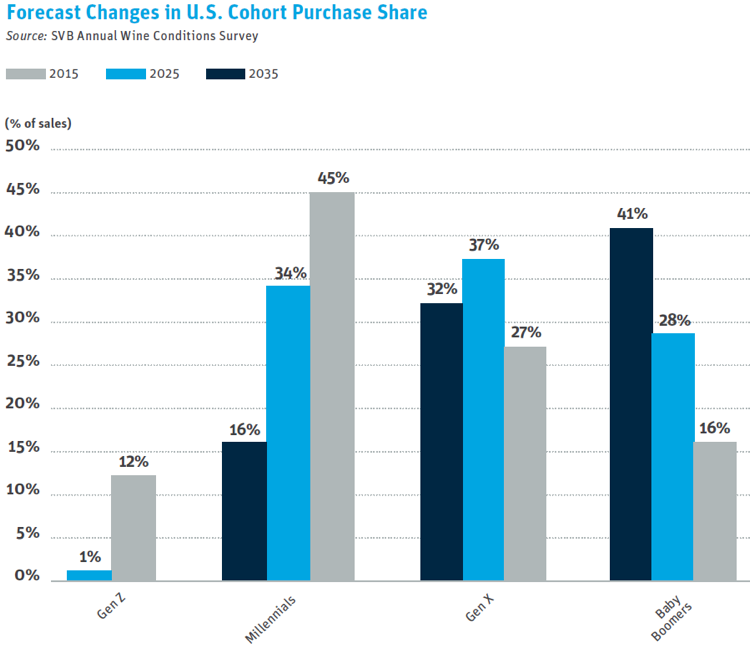 Competitors
Los Pinos Ranch competes with several wineries in Texas, including the following:
Messina Hof Winery and Resort: Established in 1977, Messina Hof is the third oldest winery in the state of Texas. The family-owned business has grown from a few acres of vines to 28 vineyards, three tasting rooms throughout the state, and 1,050 acres that produce more than 85 wines from 27 varietals.xvi  The winery has locations in Bryan, Fredericksburg, and Grapevine with lodging options at both the Bryan and Fredericksburg locations. The winery also offers a wine club membership with quarterly shipments of three, six, or twelve bottles.xvii
Becker Vineyards: Founded in 1992, Becker Vineyards is a family-owned and -operated winery located in Fredericksburg, Texas. The Becker estate is home to 46 acres of vineyards and produces over 100,000 cases of wine per year.xviii  Since it first opened in 1996, two winery expansions have taken place to accommodate 74 tanks and over 2,000 barrels. The winery claims to be the largest purchaser of French and American Oak barrels in Texas. At the estate, guided tours are conducted hourly on weekends and on a limited basis during the week. The production and bottling operation occurs year-round, and the Italian-designed bottling equipment handles about 55 bottles per minute.xix
Fall Creek Winery: Founded in 1975, Fall Creek Winery is the first winery to be established in the Texas Hill Country.xx  The founders began by testing a quarter-acre plot on their Fall Creek Winery at the encouragement of Texas A&M and Texas Tech Universities. In 1979, this plot was expanded to over seven acres, and in 1980, the founders formally established the winery and bought 400 acres near Lake Buchanan. They then began to publicize the Texas Hill Country as a viable wine region and applied to the U.S. government for the Texas Hill Country appellation. The appellation was granted in 1990, formally recognizing the Texas Hill Country region as a respected vinicultural region.xxi  The Winery now has five different vineyards grown in distinct terrains, which translates to its different assortment of wines.xxii
Landon Winery: Landon Winery has three different locations in the Dallas-Fort Worth area in the historic downtown districts of Greenville, McKinney, and Wylie. The winery sources its Texas grapes from vineyards in the Texas high plains south of Lubbock, with other specific grapes sourced from California. The first location was opened in the historic downtown square of McKinney in 2005 and includes a winery and tasting room with tastings available at any time. The Greenville location opened in 2010 and is set up as a restaurant with a tasting bar. The newest location opened in downtown Wylie in 2017. The winery also offers a wine club with bimonthly shipments of sweet, white, mixed, or red wines.xxiii
Pedernales Cellars: Founded in the 1990s, Pedernales Cellars is a vineyard and winery located in Stonewall, Texas. Pedernales Cellars sources its grapes from vineyards in the Texas Hill Country and Texas High Plains, with its original 17-acre vineyard located near Fredericksburg.xxiv  Visitors to the vineyard are able to tour the underground winemaking cellar and sample wines. The winery also offers a wine club subscription with quarterly shipments of three bottles, six bottles, or a case.xxv
Executive Team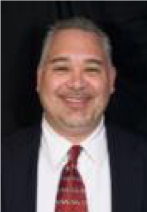 Matthew Lipton, CEO: With over 25 years of experience working with companies, individuals, and law firms, Matt has provided management expertise and oversight, business advice, and legal counsel to a wide array of companies, corporate managers, and investors. Through the course of his career, he has worked in law firms of all sizes and has founded and operated his own firm. Matt also has served in a wide range of roles on the corporate front, including CEO, COO, President, Vice President of Sales, Director, Board Chairman, corporate secretary, and General Counsel. Matt received his Juris Doctor from Southern Methodist University Dedman School of Law and a bachelor's degree from the Johns Hopkins University.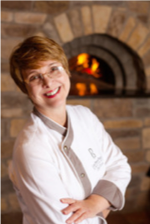 Dana Pool, CFO: Dana is a native East Texan. She became part owner of Los Pinos in 2005. Dana comes from a background of entrepreneurship and management ranging from a chain of 26 convenience stores to a fine dining restaurant in the Longview area. Dana joined Los Pinos as Executive Chef and, although still heavily involved in the restaurant, is now the Chief Financial Officer. She is also very active in the Texas Wine Grape Growers Association as an Executive Board of Directors member and Region 2 Winery Director.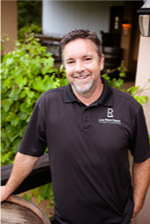 Gerald Jones, Managing Partner and Director of Sales: Gerald spent over 15 years devoted to a career in Film, Television, and Advertising that he traded in for East Texas and the Texas wine industry. He partnered with Dana Pool in 2008 to work on sales and marketing. Gerald currently travels Texas to promote Los Pinos Ranch Vineyards to over 600 stores and countless festivals, events, and wine celebrations. Gerald is focused on customer service and spreading the good word on Los Pinos Ranch Vineyards.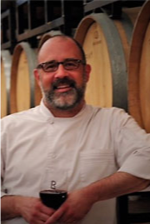 Stephen Hanson, Executive Chef: Chef Stephen comes to Los Pinos with over 20 years of experience. Born and raised in Doylsetown, PA, Stephen graduated from the Culinary Institute of America in Hyde Park, NY, and quickly set out to make his mark on the culinary world. Stephen has cooked in restaurants across the country, including in Washington, D.C., New York, New Orleans, Orlando, and, most recently, in Dallas at Dish-Preston Hollow.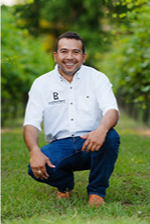 Arnulfo Perez, Winemaker/Vineyard Manager: Arnulfo comes to Los Pinos from San Luis Potosi in Cárdenas, Mexico. He has spent over a decade in the vineyards cultivating some of the best grapes East Texas has to offer. His experience working with his hands tending to the vines brings a more natural, organic approach to Texas winemaking. His love for making the best wines possible from fruit that we are blessed with is his passion.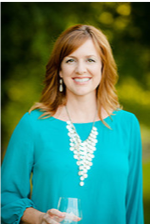 Lesa P. Jones, Managing Partner/Director of Marketing & Wine Club: Lesa was born and raised in Gilmer, Texas. After earning her degree in Marketing/Management from Baylor University, Lesa began her professional career in Dallas. Her background is in Marketing and Event Planning, where she traveled extensively planning tradeshows and conferences across the U.S.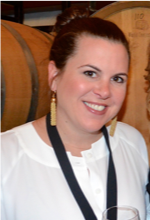 Andrea Taylor, Managing Partner/Special Events and Front of House Manager: Andrea has enjoyed a long career in hospitality, including planning events in the trade show space and co-owning her own special events venue. Andrea currently manages the front of house for our Fork and Spoon restaurant and plans and runs the special events at the winery.
john
$50,000.00