Company Highlights
By combining the revolutionary technologies of 3D scanning, 3D printing, and machine learning, Unlimited Tomorrow is developing prosthetics at a fraction of the cost
Placed its first prosthetic device on a 10-year-old girl in June 2017
Developed the first device at B87, Microsoft's 'black ops' prototyping lab, where Unlimited Tomorrow's founder was invited to work for over two months
Founder worked at NASA on the Robonaut project, where he developed a new tele-robotic interface, and was invited to share his story in a TED Talk
Has received monetary and strategic support from Tony Robbins including funding totaling $150,000
Company Summary
Opportunity
An estimated that 30 million people worldwide need prosthetic limbs, braces, or other mobility devices, however, less than 20% of these people have them.i Moreover, modern prosthetics can be expensive, heavy, and hard to use. An advanced prosthesis can cost up to $100,000.ii – not to mention upgraded versions as a child grows or replacements for broken parts – making advanced prosthetics almost impossible to obtain for many people who need them. And the cost rises for those in need in developing countries, where the number of available prosthetic devices cannot keep up with demand.iii
Unlimited Tomorrow is using modern technology to solve these problems at a global level. By combining the revolutionary technologies of 3D scanning, 3D printing, and machine learning, Unlimited Tomorrow is putting next-generation artificial limbs affordably within the grasp of the millions who need them. Unlimited Tomorrow produces and fits a human-like advanced custom prosthetic device with a fast turnaround time – and sells it directly to amputees for a base unit cost of $5,000. The company creates mechanical and robotic designs using each individual amputee's unique physiology and 3D printed custom prosthetics fitted to his or her needs. Unlimited Tomorrow aims to make "prosthetics that are as tenacious as the people who wear them."
Background
While at the 2011 Colorado state science fair, founder Easton LaChappelle encountered a seven-year-old girl whose prosthetic arm had cost $80,000. He was shocked and inspired to solve this problem by creating a more affordable device. At the age of 18, he founded Unlimited Tomorrow with the mission to empower amputees via an intuitive, scalable model to create custom devices from start to finish. Now, at 22, Easton is growing Unlimited Tomorrow and creating technology to help people at a global level using some of the newest revolutionary technologies — 3D printing, 3D scanning, and machine learning. On June 12, 2017, with the help of Microsoft, Unlimited Tomorrow placed its first prosthetic device on a 10-year-old girl named Momo.
Product
Unlimited Tomorrow will provide amputees with low-cost 3D scanners and computers to digitally map an amputee's residual limb and opposite full arm, if they have one, and create a custom prosthetic design. This raw scan data goes through software that automatically creates mechanical and robotic designs based on the shapes and dimensions of the person. The output is then printed utilizing a network of 3D printers that are located around the world. This allows the company to produce some of the most affordable and advanced artificial limbs even for the most remote and underprivileged communities. Each prosthetic is colored to match the person and has a human-like look and feel. Minus the motors and electronics, the prosthetic arms are 100% 3D printed using a high-end 3D printing machine that prints in full color. Unlimited Tomorrow plans to begin accepting orders in Q3 2018.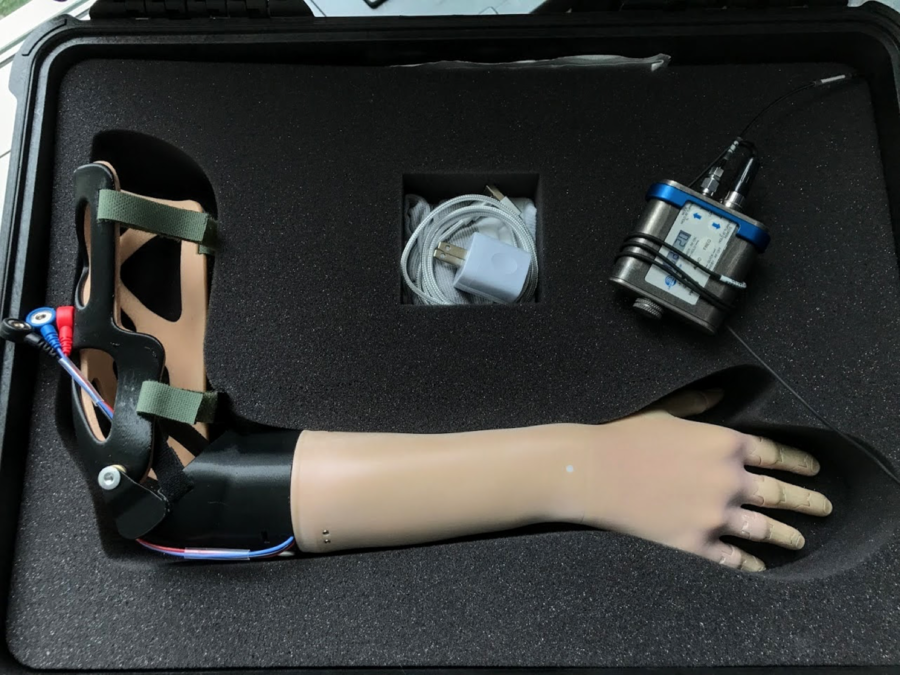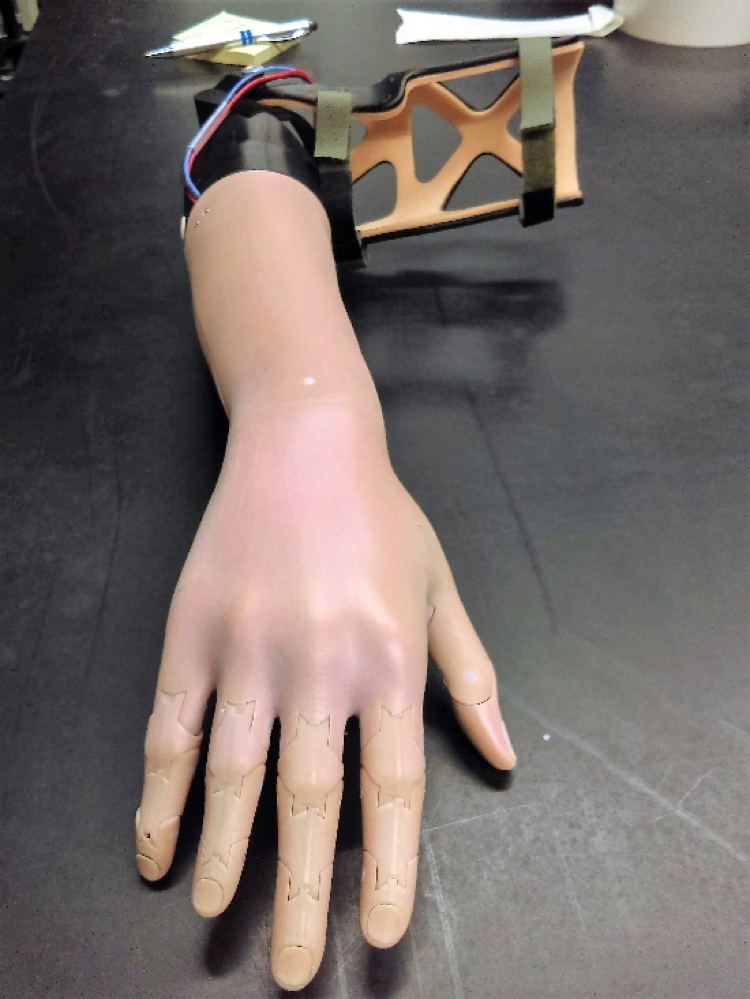 Features
Weighs 1 pound
Individual finger movement
Force monitor feedback through haptics: the device monitors the force exerted on an object and communicates that force to the amputee by using vibrations
Battery life of three to four days
Muscle controlled
Custom generated from 3D scan of biological arm (if available)
Machine learning for advanced control: utilize neural networks and machine learnings to learn and detect desired hand grips; these algorithms turn the raw sensor data into meaningful actions for the device
Realistic and paintable fingernails
Intellectual Property
On January 9, 2018 Unlimited Tomorrow filed a provisional patent to protect its newest device, an upper extremity prosthesis. The purpose of the patent was to protect the mechanical aspect of the invention and the overall system. This includes how the device is custom generated, socket generation, new muscle sensors, and more.
Use of Proceeds and Product Roadmap
Funds raised from this offering will be used to complete product development. If the minimum $50,000 is raised, Unlimited Tomorrow plans to use the majority of proceeds on future wages ($20,000) to hire core engineers to continue product development and general working capital ($6,500). If the maximum $1,070,000 is raised, the company plans to use a large portion of proceeds on future wages ($350,000) to hire a core team of engineers for product development and R&D as well as business operations. Other categories include general working capital ($260,000) and research and development ($200,000) to commercialize the product and continue development of newer, better generations.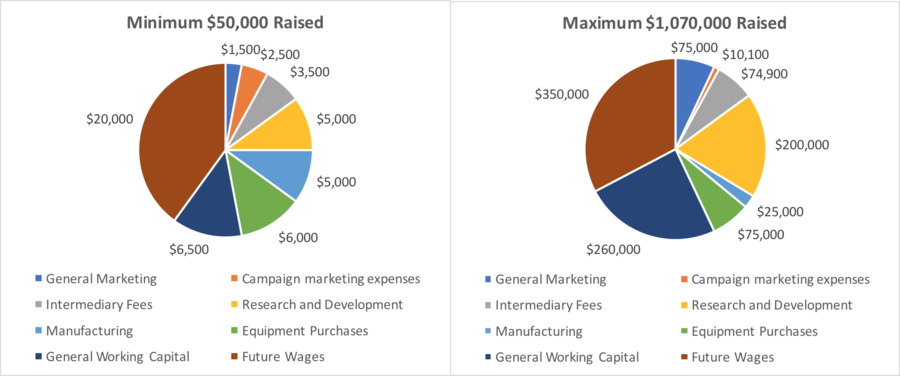 In the future, Unlimited Tomorrow plans on making a product for lower extremity amputees. Lower body extremities make up a majority of the robotic prosthetics market.iv
Business Model
Unlimited Tomorrow works directly with amputees and provides them with a 3D scanner that is shipped to the amputee's residence. By automating the design process, the company can charge a flat rate for both children and adults and make it easier to replace the device in the future. The base unit is $5,000 for both children and adults. When a child outgrows their device, it costs $2,500 per additional device and requires a new scan.
Company Traction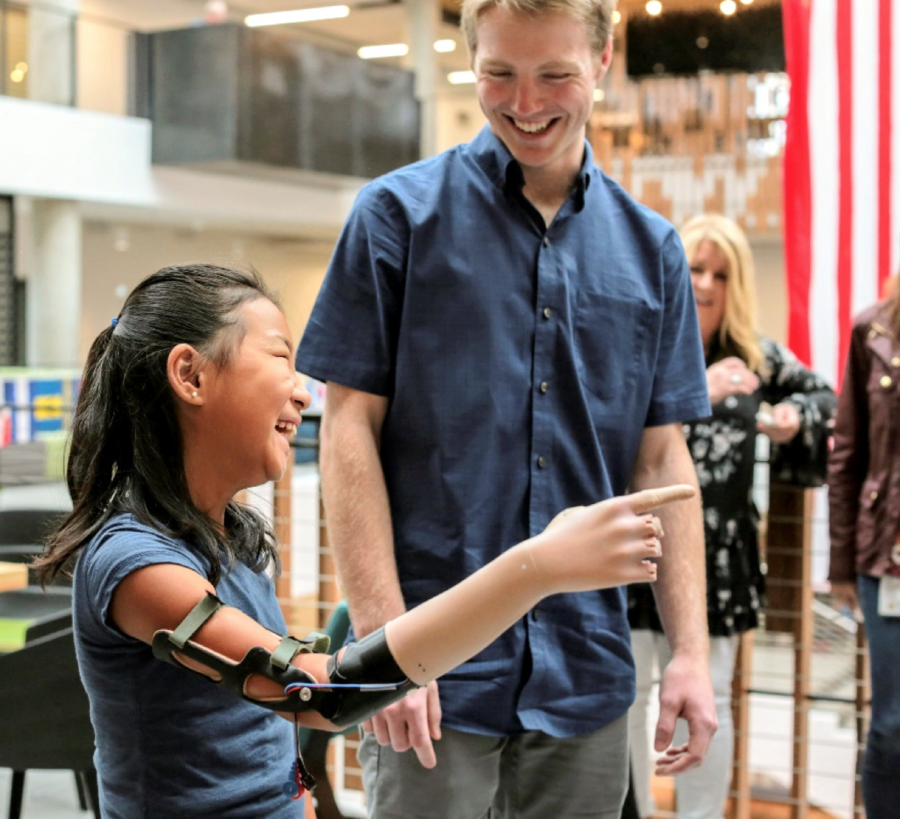 Microsoft Partnership
Microsoft also helped provide the resources to deliver the first device in June 2017. Easton had the opportunity to go to Seattle and work in B87, Microsoft's 'black ops' prototyping lab. Microsoft, after seeing his work advance and being inspired by his project, invited him to spend over two months there, rather than one week as originally planned. To make the project deadline and give the 3D-printed robotic prosthetic arm to Momo on time, some of the company's top industrial designers got involved and helped Easton finish it just hours before Momo got to Seattle. You can view the full story here.
Photo Credit: Microsoft
Historical Financials
Unlimited Tomorrow generated over $38,000 in revenue in 2017 and over $80,000 in revenue in 2016. In 2016, consulting income spiked due to founder speaking engagements and media. The majority of revenue to date is from consulting income, however, the company plans to begin accepting orders for its device in Q3 2018. Total cost of goods sold including the cost of parts, supplies, and labor was almost $24,000 in 2017, up from nearly $6,000 in 2016.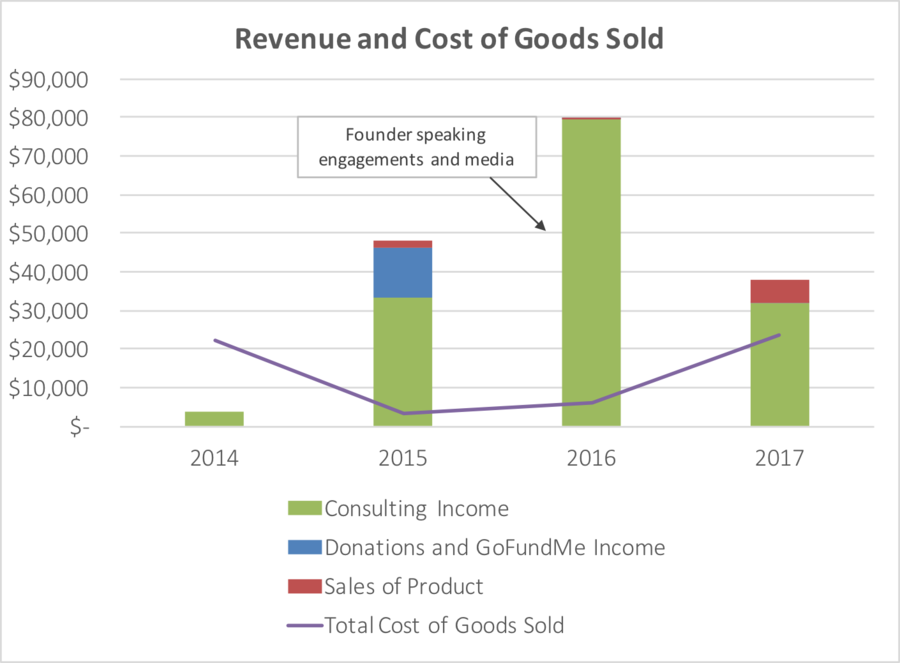 Unlimited Tomorrow's operating expenses totaled approximately $54,000 in 2017 and $34,000 in 2016. The largest expense category in 2017 was professional fees (~$23,000) and rent (~$15,000).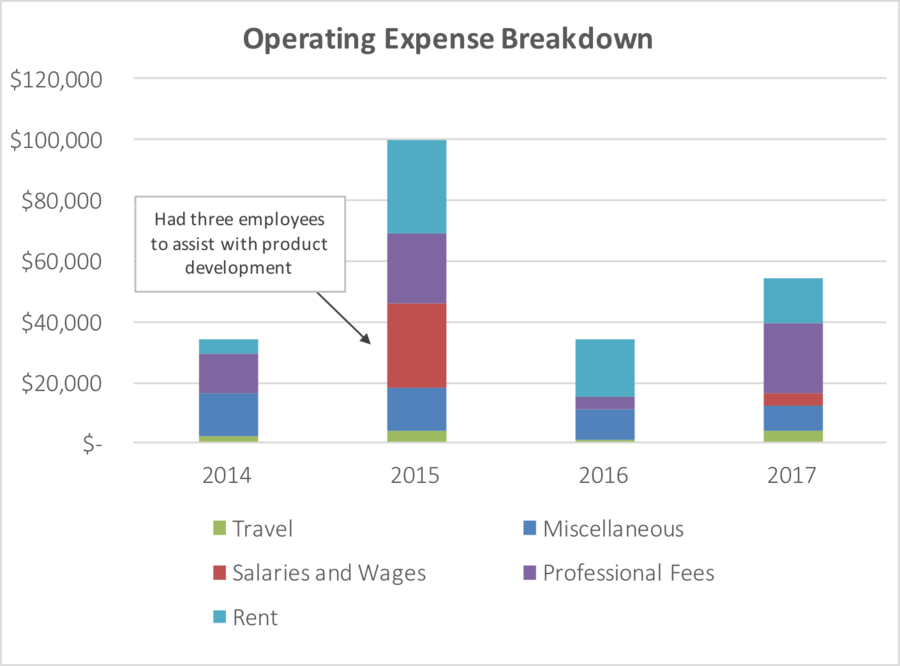 Unlimited Tomorrow had a net loss of $44,000 in 2017 compared to net income of $37,000 in 2016.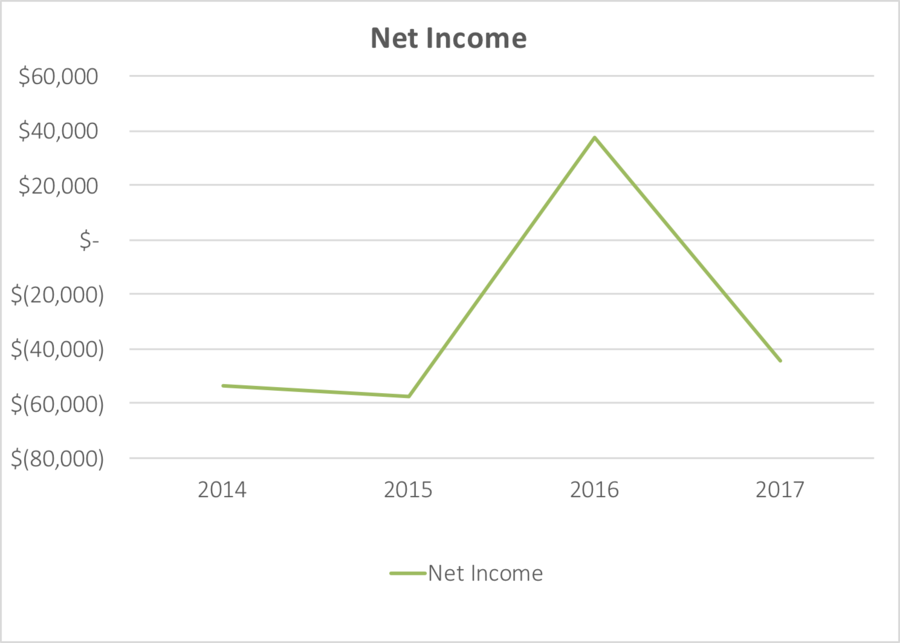 Industry and Market Analysis
Globally, it is estimated that 30 million people need prosthetic limbs, braces, or other mobility devices. However, less than 20% of these people have them.v The global robotic prosthetic market was estimated to be worth over $790 million in 2016. Prosthetic demand is being driven by an increase in amputations, technological advancements, and an increase in funding prosthetics as a result of initiatives by government and nonprofit organizations (e.g. Centers for Disease Control and Prevention and Amputee Coalition).vi In the U.S. alone, nearly two million people live with limb loss. The main causes of which are vascular disease (54%) – from diabetes and peripheral arterial disease – and trauma (45%). Moreover, it is estimated that 185,000 amputations are performed in the U.S. each year.vii
U.S. robotic prosthetics market revenue by technology, 2014 – 2025 (USD Million)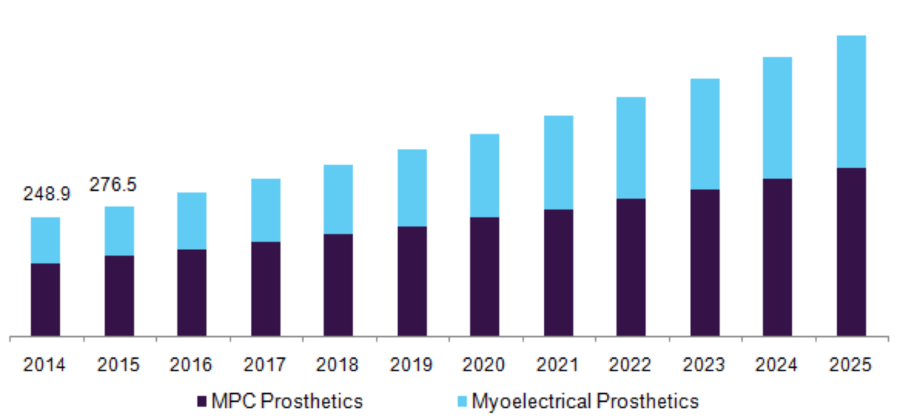 Source: Grand View Research, Inc.
The market is segmented by technology into two areas: microprocessor-controlled prosthetics and myoelectric prosthetics. Microprocessor-controlled prosthetics, generally used on knee prosthesis, use feedback from sensors to adjust joint movement on a real-time as-needed basis. Alternatively, a myoelectric-controlled prosthesis is controlled by electrical signals generated from the muscles in a residual limb. Unlimited Tomorrow falls under both categories.
Lower body extremities accounted for the majority of market revenue in 2016 due to the large commercial presence of these prosthetics and a high number of lower body amputations globally.viii
Competitors
Ottobock (bebionic): Opened in the U.S. in 1958, Ottobock Healthcare is a privately held company that was originally established in Germany in 1919. The company offers products and services that help people with their physical independence, including prosthetics, orthotics, adult and pediatric mobility, post-surgical therapies, fabrication, industry education, and delivery and billing. This includes the bebionic myoelectric hand that has 14 different grip patterns and hand positions. Each finger has an individual motor that helps move the hand and grip objects in a natural way. The hand comes in three different sizes with four wrist options.ix The company offers a prosthetic glove to protect the mechanics of the prostheses and to help it look more like a natural hand. The arm costs around £30,000 including fitting and training and has a typical lifespan of up to five years.x Ottobock acquired the beibonic hand from British med-tech company Steeper in February 2017.xi
Össur (NASDAQ: OSSR): Founded in 1971, Iceland-based Össur is a leader of noninvasive orthopaedic products and services. Its Touch Bionics product line includes a myoelectric full hand, the i-limb® quantum, which can change grips with a simple gesture. Gesture control enables an automated grip to be accessed by moving the hand in one of four directions. The hand has four methods of control (gesture, app, muscle, or proximity) and 36 available grips. The hand comes in four sizes and has multiple covering options.xii The average cost to fit is $80,000 to $120,000.xiii Össur acquired Touch Bionics, which was spun out of the NHS in Scotland, in a deal worth £27.5 million in April 2016. In 2015, Touch Bionic sales reached £15 million, up 11% from the prior year.xiv In 2016, Össur had sales of $521 million.xv
Open Bionics: Founded in 2014, UK-based Open Bionics is a startup creating affordable 3D-printed bionic hands. The company has a line of kids' prosthetics that are inspired by their favorite characters, including the Iron Man hand, Star Wars lightsaber hand, and Snowflake hand. The hand currently costs around €11,300.xvi In partnership with the National Health Services, Open Bionics began a clinical trial of the bionic hands in the summer of 2017 with seven children. In December 2017, the trial was granted a second stage and awarded a product development contract for 15 additional children.xvii In February 2017, Open Bionics won the international category at the UAE Robotics for Good award in Dubai and was awarded a $1 million dollar prize.xviii
TASKA Prosthetics: TASKA Prosthetics is a prosthetic hand manufacturer based in New Zealand. Its waterproof myoelectric hand has 23 different grips, but most daily activities can be performed using just three. It also features a flexible palm, high rotating thumb speed, independent finger speed, lateral finger movements, and a strong lateral thumb grip that allows users to firmly hold a knife to cut a steak.xix The hand costs $35,000 and went on the market at the end of July 2017.xx
Executive Team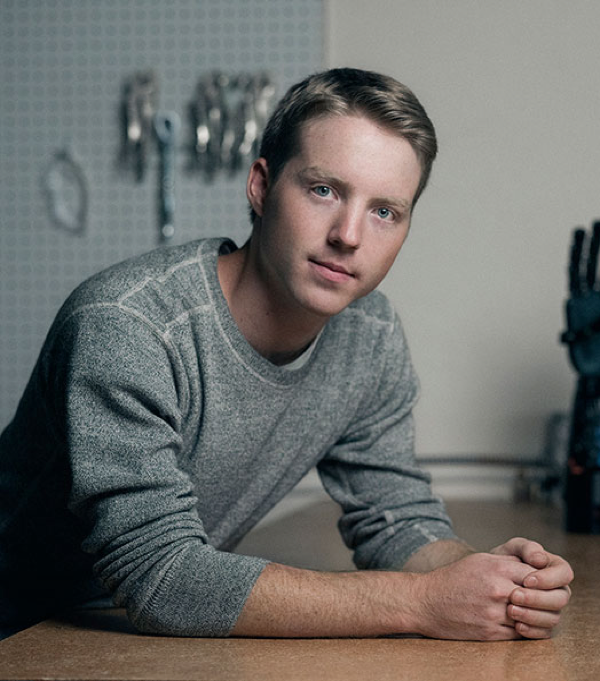 Easton LaChapelle, CEO and Founder: Easton LaChappelle has been developing robots since he was 14. His first robotic hand was made of electrical tubing, fishing line, and servo motors and was featured in Popular Mechanics.xxi The next 3D-printed version earned second place in engineering at the International Science Fair and an invitation to work with the Robonaught team at NASA Johnson Space Center. It was at a science fair where Easton met a seven-year-old girl who had a prosthetic hand. After learning about the process she went through, Easton discovered that the simple device had cost $80,000. This was his "ah-ha" moment that inspired him to create new devices, one of which was controlled by brainwaves and shook hands with President Obama at the White House Science Fair.xxii At 18, Easton and investor Tony Robbins created Unlimited Tomorrow to bring these devices to the world. After years of development, the first device was fitted to 10-year-old Momo Sutton.
Investment Terms
Security Type: Crowd Note
Round Size: Min: $50,000 Max: $1,070,000
Valuation Cap: $7,000,000
Discount: 20%
Conversion Provisions: In connection with an equity financing of at least $1,000,000, the Company has the option to convert the Crowd Note into shares of a series of non-voting preferred stock, at a discount of 20% of the price per share of the new preferred stock sold in the equity financing or a valuation cap of $7,000,000, whichever results in a lower conversion price. Please refer to the Crowd Note for a complete description of the terms of the Crowd Note, including the conversion provisions.
john
$1,070,000.00

john
$1,070,000.00