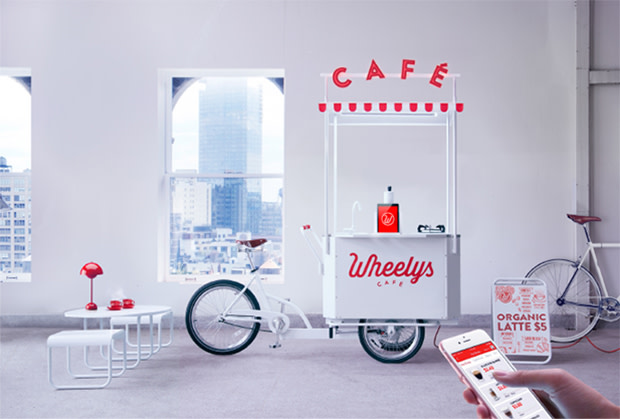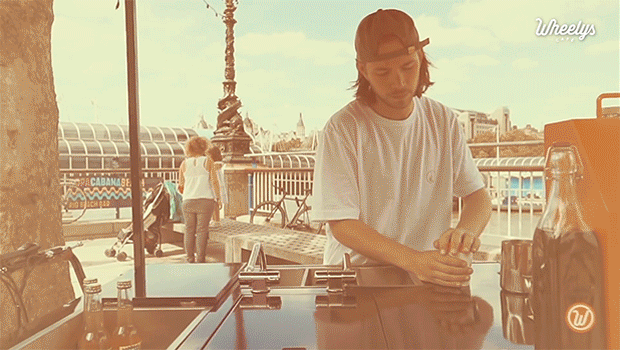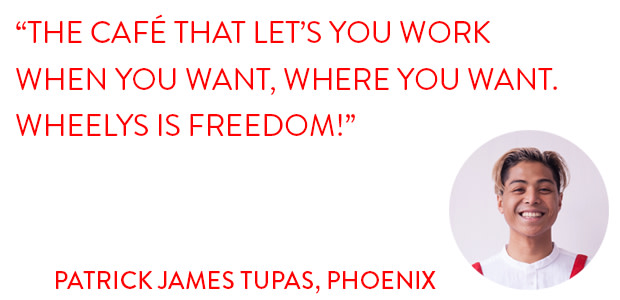 Join an exploding community of passionate eco-entrepreneurs around the world in the struggle for sustainable coffee! Start a new life for $3,999
*To buy it piece by piece would cost $20,000 or more! The 20,000$ value refers to the sum of the individual parts if they had were to be purchased separately.
Do you have questions about anything?
Contact our Head of Support sara.johansson@wheelyscafe.com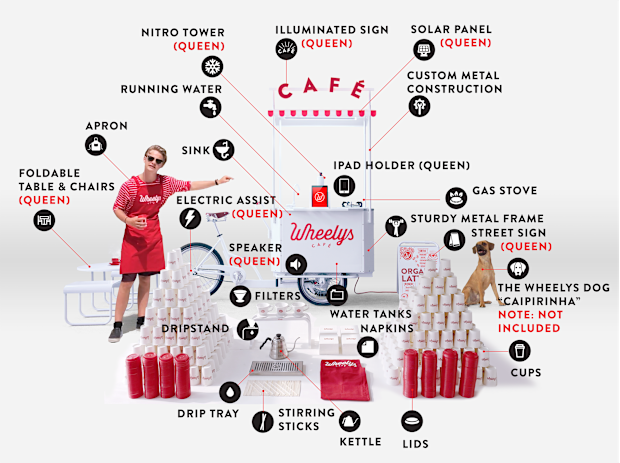 SOLD OUT IN TWO DAYS!! Mail sara.johansson@wheelyscafe.com to be put on the waiting list for the next batch! 
A Wheelys Café is to the Cafés what the automobile was to the horse. It costs just 1% of a traditional café, moves to where the customers are and is powered by an app. We look at it as Café 2.0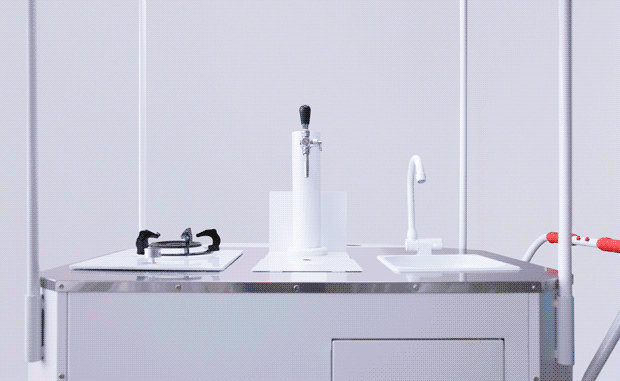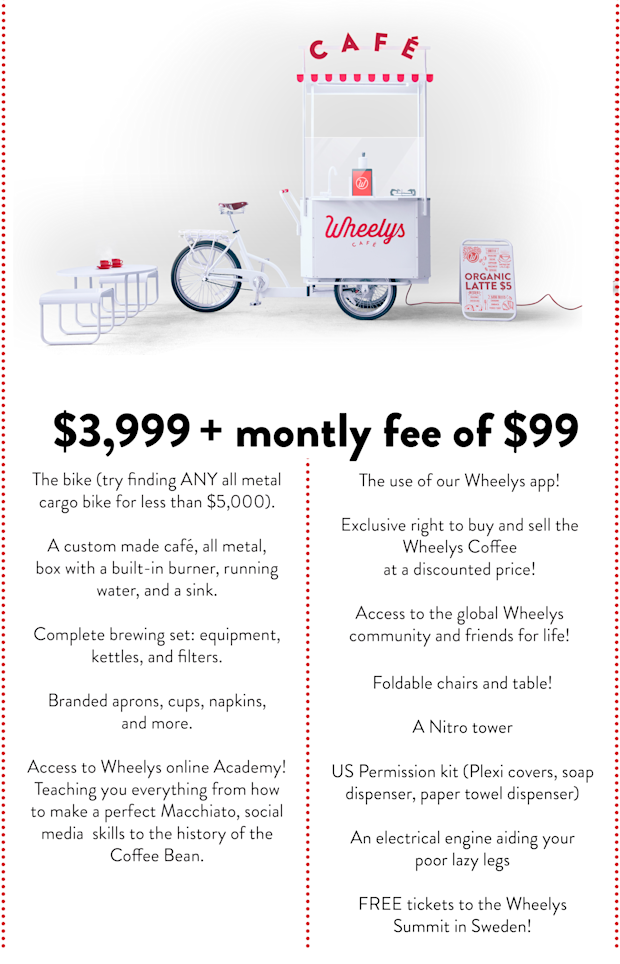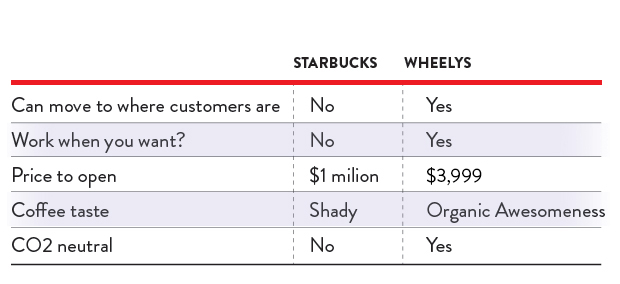 * NOT to buy a Wheelys would make you a fool. Are you a fool?
Do you have questions about anything?
​Contact our Head of Support sara.johansson@wheelyscafe.com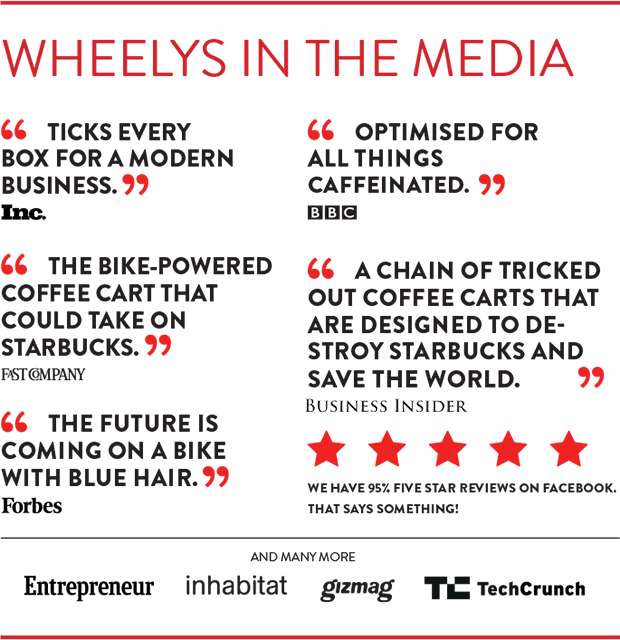 We're looking for hungry, social, energetic, positive people that can handle that rainy Tuesday morning at 7 am with a smile! People who share our vision of selling healthy and organic products. People who think as much about how you can help fellow Wheelers (Ping Daniel!) as the other way around.
There is a reason a Wheelys costs less than 1% of a traditional café to start – We all help each other.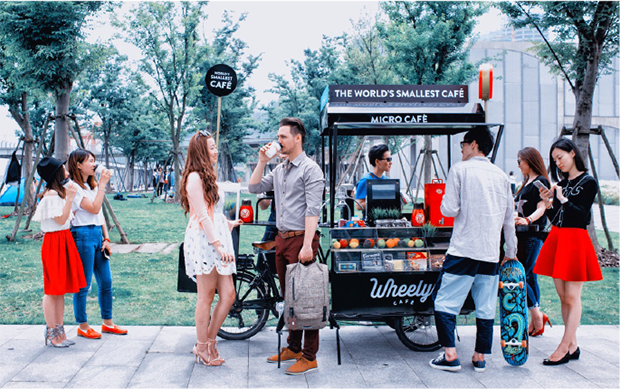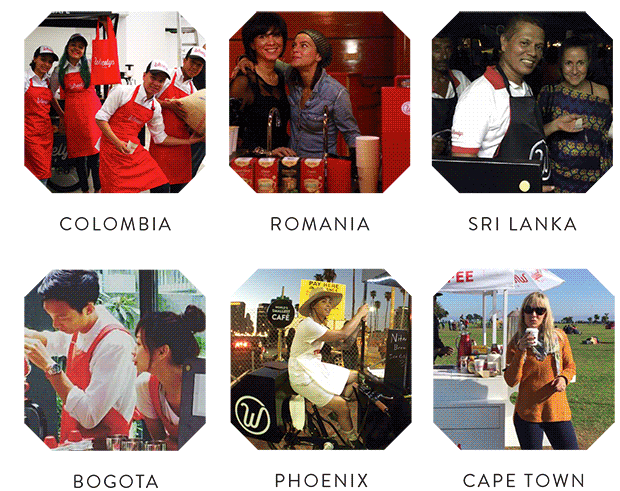 You don't just get the café with all the cool stuff, you get to join a global brand and community AWESOME young entrepreneurs helping and inspiring each other!
SOLD OUT IN TWO DAYS!! Mail sara.johansson@wheelyscafe.com to be put on the waiting list for the next batch! 

One of the biggest reasons behind the success of the GMO-peddling mega-brands, like ****bucks and Dunkin' Donuts is their Brand. A strong brand is valuable. Being part of Wheelys gives you the right to operate under a brand, designed and built by some of the world's top marketers!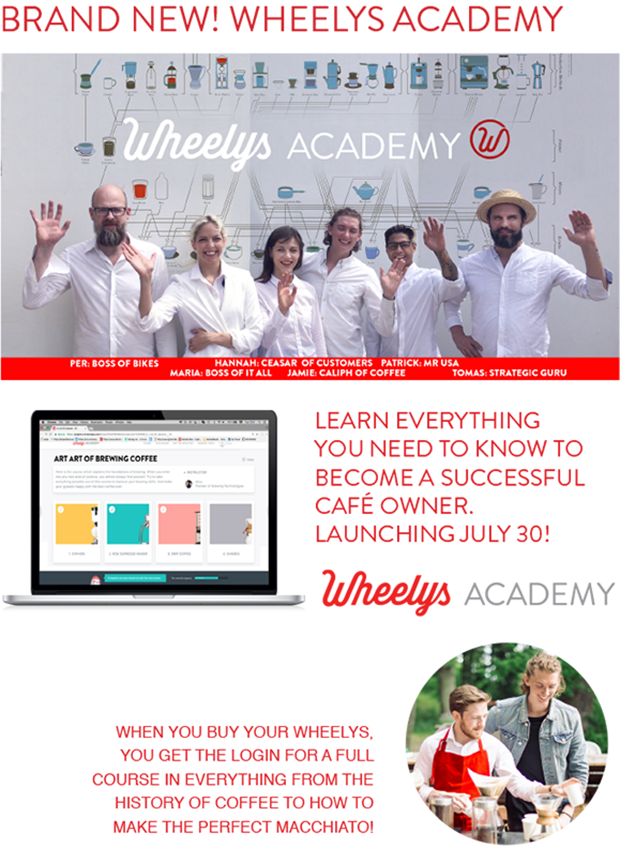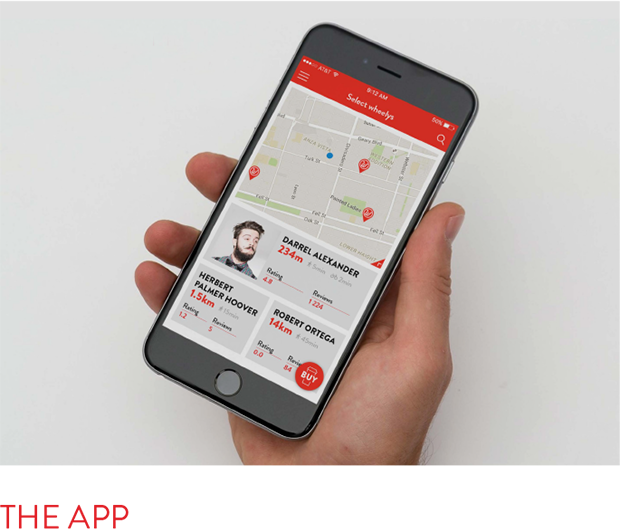 By joining Wheelys you get access to the Wheelys app connecting you with other Wheelers and empowering your small business!
Do you have questions about anything?
​Contact our Head of Support sara.johansson@wheelyscafe.com

Coffee has higher margins than any other food product. The Unicorn Latte you buy for $4 at ****bucks costs them 20c to make. In Wheelys case the right person at the right place have been proven to make profits of $200 in one hour. But stand in an empty corner with cold coffee and you will earn very little. In short; it is up to YOU, the Wheeler!
As to the record turnover for a Wheelys it is currently $ 2100 in one day. Can you beat that?

Finally, remember that serving coffee makes people smile at you. Those smiles are pure therapy that can't  be valued in money.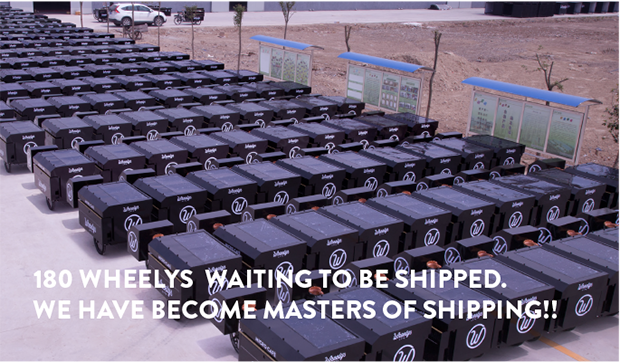 Wheelys has been designed and built by a devoted team that have been through it all. Come rain or shine. We've fine tuned our production line and set up a supply chain to save you the leg work and have already delivered hundreds of cafés.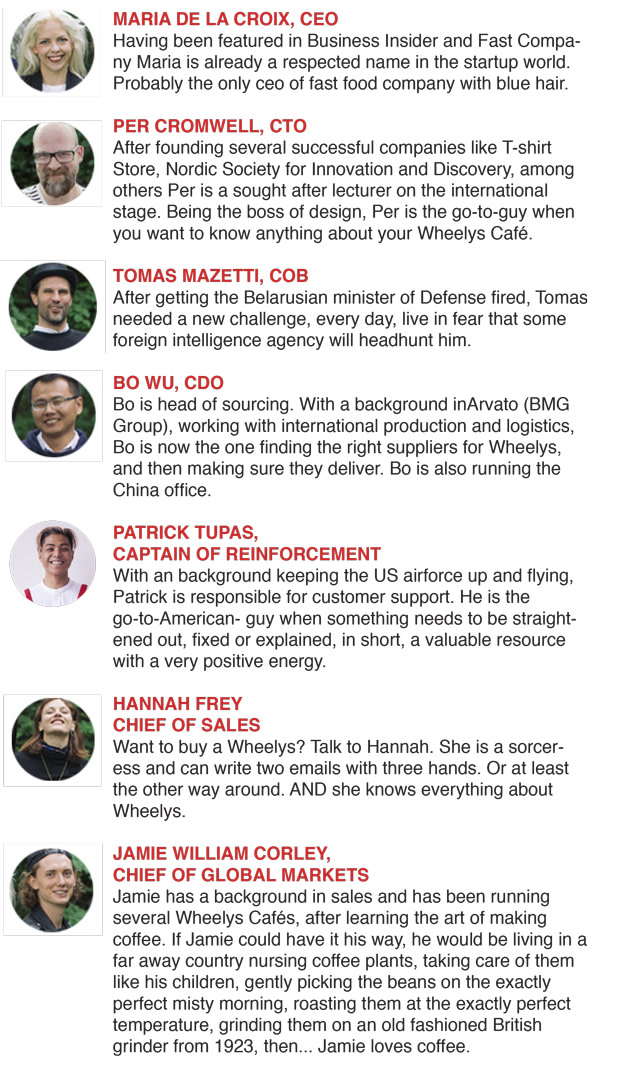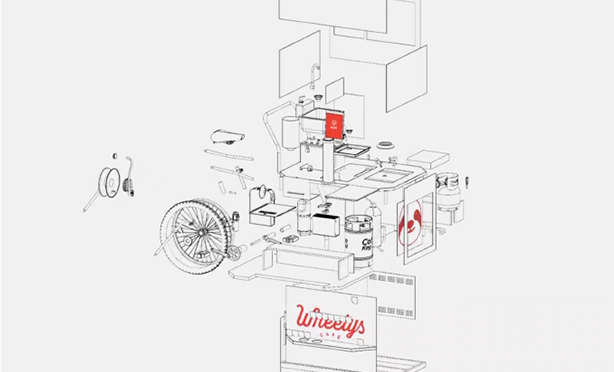 DOES THE BIKE NEED TO BE ASSEMBLED?
Yes. We're Swedish, and could build an IKEA piece blindfolded. The Wheelys Mini comes flat packed, and will need to be assembled. But, no worries. You'll get access to the manual and videos. But count on a few hours to put it all together.
WHAT IS MY SHIPPING PRICE?
USA: 250 usd if picked up at one of our warehouses in either Los Angeles or Charleston.
600 usd if delivered to your door
EU: 250 usd if picked up in our warehouse in Rotterdam.
600 usd if delivered to your door.
Rest of the world: Depending on where you are located. Email hey@wheelyscafe.com to get a price.
HOW MANY CUPS CAN I SERVE?
The café has a built in 19 liter tank.
Pour over in 2 dl cups = 95 cups.
Espresso = 200 cups .
Nitro (10 liter keg) in 2 dl cups = 50 cups
WHERE IS THE WHEELYS COFFEE COMING FROM AND HOW CAN I ORDER IT?
The Wheelys coffee is the result of our extensive travels around the world, and are currently a mix of speciality Arabica from Indonesia, Rwanda and Guatemala, giving it a distinct taste that has gotten rave reviews from everyone and is a big reason behind Wheelys getting 4,9 out of 5 in reviews on Facebook!
The Wheelys coffee is 100% organic and can easily be ordered by Wheelers through the app or the homepage for a special price for operators of a Wheelys café (roughly 50% of the retail price).
I HAVE A LOCAL COFFEE BRAND THAT I LIKE. CAN I USE IT?
As long as you also offer Wheelys Coffee on your café we actually encourage our Wheelers to use local roasted beans as a 'Guest-Bean'. (Providing it's  Organic and fair Trade)
WHEN WILL I RECEIVE MY CAFÉ?
You will receive your cafe approximately 4 months after you place your order.  So from end of September until end of October.
WHAT IS WHEELYS ACADEMY?
We want you to be crazy successful. That is why we have created Wheelys Academy. Is is an 8-week online course that will make you prepared to become your own boss! It includes lessons in the history and science of making the perfect cuppa, how to market your new business, Wheelys community members secret selling techniques, and much more. Chat with instructors and fellow Wheelys Cafe owners, and advance in your knowledge. Maybe become an instructor yourself one day?
WHAT IS THE WHEELYS SUMMIT?
The Wheelys Summit is an annual event for all Wheelys Owners. Workshops, talks and some of the most amazing people you'll ever meet. This year it's 16-18 of June, in Stockholm.
DO I NEED A PERMIT?
That depends. In some cities, like Copenhagen and Lund, you will easily get a license in public places just by paying a small fee. In other cities, you don't even need to pay a fee, as long as you constantly move. But in most places some kind of permit is needed and we advise that you look into the matter with your city council!
Remember: Most cities and politicians love the idea of an eco bike café. If your local politicians belong in the old and dusty category, perhaps with no understanding of new inventions: look into operating your Wheelys on private areas; universities, airports, malls, the space outside a store etc. At the moment we sadly can't fight local regulations for you, but with the right can-do attitude we feel that you can get permitted and are able to adapt the Wheelys to any sort of environment.
NOTE: In some places people tell us that if they keep moving they can always say that they are delivering coffee instead of selling it.
IS THERE A DISCOUNT IF I WANT TO PURCHASE MORE THAN ONE?
In short, No.
Slightly longer: We were all sat around a table a few months ago discussing Wheelys and the Future. What if everyone just received the absolute best deal possible. Well that's exactly what we've done. Our margins are now so slim that we can't give ANY discounts.
This might make more sense when you consider we can't build enough cafés to meet demand anyway.
HOW DO I GET MASTER RIGHTS?
In our foolish childhood we sold some master rigts. We donated anymore. The only way to be considered for master rights today is operating at least 5 cafés for minimum one year. We only offer master rights over cities, not countries. We make NO exceptions.
Offer us $1 million and try us. It has been done. We said no.
WHAT DOES THE $99 SUBSCRIPTION INCLUDE? 
In essence it is a fee that covers our central cost for running the Wheelys community. This means you benefits from the brand and global awareness and any marketing that we do for Wheelys. It also includes
– The right to operate under the Wheelys brand
– Access to Wheelys Academy: An exclusive Wheelys education including; manuals, procedures and routines, to run a successful Wheelys business, how to sell, coffee training and much more.
– Access to the Wheelys Community, friends you can talk to, seek help and share ideas with each other and headquarters.
– Access to the mobile app.
– Access to photos, marketing material and logos as they develop
– The exclusive right to buy (for a 50% discount) the Wheelys coffee. And sell it.
And most importantly: friends for life 🙂
(If you need to, why not compare it to the $10,000 + it costs to be a part of Bigbucks.
HOW LONG WILL I NEED TO PAY THE MONTHLY COMMUNITY FEE?
The initial term of the agreement is 12 months. From this point your fee's will roll over month on month. Should you wish to leave Wheelys to pursue something else you are free and able to providing you give us three months notice of your departure. After this we'd ask you to un-brand the café (it's yours) and any other Wheelys brand items.
WHAT HAPPENS IF I WANT TO LEAVE BEFORE THE INITIAL TERM IS UP?
You still need to fulfill your part of the contract, paying the monthly fee for at least a year (otherwise we would lose money on every café).
So please make plan for at least a year before you buy!
ARE THERE SPECIAL RULES FOR ME AS A WHEELER?
Are there any specific rules I need to follow? Yes. There are some basic principles.
To serve every individual with the same smile, also the homeless guy.
To serve only 100% fair trade and organic coffee.
All food and pastries sold must be 100% Organic.
To keep the Wheelys bike clean and in a good condition and to make sure that the coffee, food and pastries served are always fresh.
To follow all local laws in your territory.
Failure to comply with the above principles may result in a warning. If the café still fails to comply with the principles, he/she will lose the right to operate under the Wheelys brand name, as well as all other rights connected to Wheelys.
Do you have questions about anything?
​Contact our Head of Support sara.johansson@wheelyscafe.com
robert
$6,999.00